Where's Saturn? Is that a UFO--or the ISS? What's the name of that star? Get the answers from mySKY--a fun new astronomy helper from Meade.

LAUNCH POSTPONED: Continued problems with fuel sensors have prompted mission controllers to postpone today's planned launch of space shuttle Atlantis on an 11-day construction mission to the International Space Station. The next launch window: January 2008. NASA says January 2nd is the earliest Atlantis will leave the launch pad (photo credit: Mike Theiss).

SUNSPOT SUNSET: Sunspot group 978 continues to grow (movie) and it now occupies an expanse of sun more than 6 times wider than Earth. "Sunspot 978 is quite big and interesting," says Peter Heinzen of Raron, Switzerland. "I photographed the spot last night just as the sun was setting behind some fir trees here in the Swiss Alps."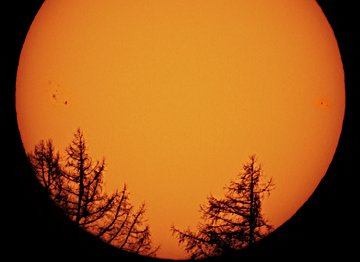 He used a Canon EOS 40D and a sun-filtered Takahashi FS-78 refractor to capture this rare "sunspot sunset." Although sunspot 978 is large and growing, the sunspot's magnetic field remains uncomplicated and stable; no big solar flares are in the offing. Stay tuned for updates.
more images: from Franck Charlier of Marines, Val d'oise - France; from Javier Temprano of Santander, Spain; from Rogerio Marcon of Campinas - Sao Paulo, Brazil; from Oldfield of Hong Kong; from the Hinode spacecraft in Earth orbit; from J. Fairfull and J. Stetson of South Portland, Maine; from John Nassr of Baguio, Philippines; from Pete Lawrence of Selsey, UK; from Cai-Uso Wohler of Bispingen, Germany;
SUNSET MIRAGE: "Every day recently I've been taking my camera to work where I have a nice view over Santa Monica Bay," reports photographer Jeff Hapeman of Santa Monica, California. "On December 4th I caught this amazing sunset mirage."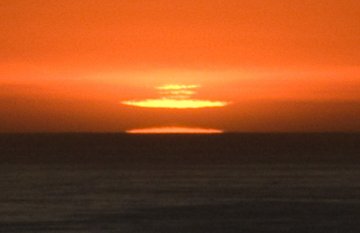 Photo details: Canon G9, ISO 80, 1/640s, f/4.8.
A temperature inversion layer split the setting sun into 3 ... 4 ... 5 pieces! Atmospheric optics expert Les Cowley says the California Coast is a good place to see such things. "The combination of cold offshore ocean current and warm winds from the land give temperature inversions, layers of abnormally hot and cold air that bend the sun's rays to form sunset mirages and green flashes."
In this particular case, "just one inversion has given us three squashed suns, one setting above the layer, one rising from the sea and another sinking towards it. Microstructure or multiple stacked inversions have split the topmost sun into three more little pieces."
The topmost sun often disappears with a final green flash. Says Hapeman, "I'm hoping to catch that next!"
---
Comet 17P/Holmes Photo Gallery
[Interactive World Map of Comet Photos]
[sky map] [ephemeris] [3D orbit] [Night Sky Cameras]