Would you like a phone call when geomagnetic storms erupt? Sign up for Spaceweather PHONE.
AURORA ALERT: Sky watchers, be alert for auroras. A solar wind stream hit Earth today, sparking a geomagnetic storm (in progress) at high latitudes. John Gray took this picture from the Isle of Lewis, Outer Hebrides, just a few hours ago: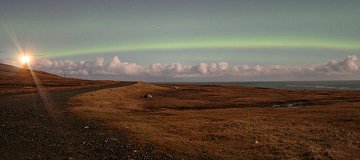 Photo details: Canon 350D, 18mm, f3.5, 400 ASA, 15 secs
"The huge green arch was very impressive," he says. "Even the nearly-full Moon did not stop the auroras from shining through."
Note: The solar wind stream that caused these auroras is unrelated to the solar explosions described below. Consider it a bonus.
ANGRY SUNSPOT: Solar activity is very high. New sunspot 930 has unleashed two X-class solar flares: an X9-flare on Dec. 5th and an X6- flare on Dec. 6th.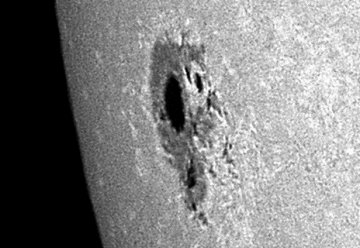 Sunspot 930 on Dec. 6th. Credit: John Nassr of the Philippines.
Because of the sunspot's location near the eastern limb, the blasts were not squarely Earth-directed. Nevertheless, they might make themselves felt. Coronal mass ejections (CMEs) hurled into space by the explosions could deliver glancing blows to Earth's magnetic field as early as Dec. 7th, producing high-latitude geomagnetic storms.
more images: from Gary Palmer of Los Angeles, CA; from Robert Arnold on the Isle of Skye, Scotland; from Chuck Baker of Carlsbad, California; from John Nassr of the Philippines; from John M Candy of Whitley Bay, North Tyneside, UK; from John Stetson of Falmouth, Maine; from Adrian Guzman of San Jose, CA.
PLANETARY ALIGNMENT: Finally, a good reason to wake up early: Jupiter, Mercury and Mars are converging to form a tight triangle in the morning sky. Look for them, low in the east, beaming through the rosy glow of dawn on Dec. 8th, 9th, 10th and 11th. All three planets will fit together in the field of view of ordinary binoculars--a very pretty sight.