TIGER STRIPES: "Prepare to be amazed," says planetary scientist Carolyn Porco. On Monday, Aug. 11th, Cassini will fly over the tiger stripes of Saturn's moon Enceladus and take high resolution images of vents spewing water and organic molecules into space. Porco speculates that Cassini might see "banks of snow where icy particles in the jets fall back to the ground"--or something else "geologically unusual." Stay tuned.
AURORA BOREALIS: A solar wind stream hit Earth on August 9th sparking geomagnetic storms over Canada and at least two US states. "I got a call from Spaceweather PHONE alerting me to the situation," says Bob Johnson of Saskatoon, Saskatchewan. "I took my camera to a dark sky site and snapped some awesome pictures." The meteor in this one is probably an early Perseid: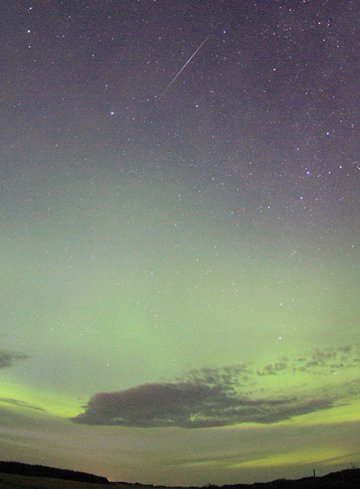 The display has subsided, but another flare-up is possible. The solar wind continues to blow and NOAA forecasters estimate a 25% chance of more geomagnetic activity in the next 24 hours.
August 2008 Aurora Gallery
[Aurora Alerts] [Previous Augusts: '07, 06, 05, 04, 03, 02]
AT THE EDGE OF SPACE: Yes, noctilucent clouds really do hover "at the edge of space." Consider this photo taken on July 22nd by astronauts onboard the International Space Station: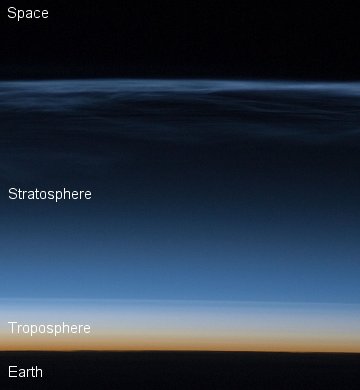 The electric-blue band, a noctilucent cloud, lies approximately 83 km (51 miles) above Earth's surface. The sky at that altitude is space-black. It is the realm of meteors, high-energy auroras, and tiny crystals of ice that glow blue when struck by sunlight. Noctilucent clouds (NLCs) are made of those crystals; how they form in the extremely-dry upper reaches of Earth's atmosphere is a mystery.
The space station was located some 320 km (200 miles) above Mongolia at the time of the display. Astronauts pointed their camera out a north-looking window where the midnight sun illuminated the clouds. The black expanse of Earth at the base of the snapshot is Russia.
The view from the ISS is stunning, but space travel is not required to see NLCs. These mostly-polar clouds have been sighted in recent years from Earth's surface as far south as Oregon, Washington, Iran and Turkey. Browse the gallery for observing tips.
---