Where's Saturn? Is that a UFO--or the ISS? What's the name of that star? Get the answers from mySKY--a fun new astronomy helper from Meade.

TINY SUNSPOT: Don't be fooled by sunspot's 966 diminutive imprint on the sun. Amateur astronomers report that the sunspot is a micro-hive of activity with a spiral filament emerging from one of its two dark cores. If you have a solar telescope, take a look.

Images: from Malcolm Park of London, United Kingdom; from Cai-Uso Wohler of Bispingen, Germany; from Alcaria Rego of Almada, Portugal; from S. Johansen and J. Stetson of South Portland, Maine.

PERSEID FIREBALL: The Perseid meteor shower is underway. Don't panic, the peak doesn't occur until August 12th and 13th, but already 10+ shooting stars per hour may be seen during the dark hours before dawn. Last night in Colorado, physics professor Jimmy Westlake caught this Perseid during a 4 minute guided exposure: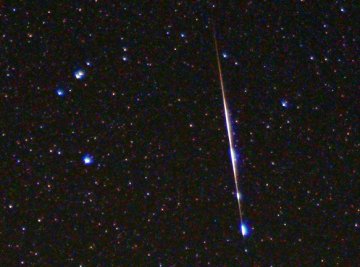 Photo details: Fuji Finepix S2, 35 mm wide angle lens, f3.3, ISO400, 4 minutes.
"This brilliant Perseid meteor made two bright flashes before ending with a terminal burst of magnitude -5 against the stars of Capricornus," says Westlake.
2007 Perseid Meteor Gallery
[observing tips] [sky map]
THE VIEW FROM ABOVE: Astronauts onboard the ISS and shuttle Endeavour will watch the Perseid meteor shower from above. What will that be like? In 2001, space shuttle Discovery (STS-105) orbited Earth during a Perseid shower, and the crew recorded this NASA video of a Perseid hitting Earth's atmosphere. Astronauts onboard the ISS have also enjoyed Leonid meteor storms from orbit: full story.
LIFTOFF! Space shuttle Endeavour blasted off from Cape Canaveral last night at 6:36 pm EDT carrying a new truss segment and 5,800 pounds of supplies to the International Space Station. "Every aspect of the launch was perfect," says photographer Mike Theiss who was on hand for the thunderous liftoff: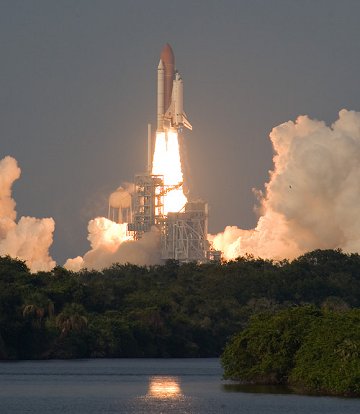 There was a lot to see and Theiss recorded it all: astronauts in formation, the shuttle's exhaust casting shadows and glowing in the evening sky, and the shuttle itself ripping through the atmosphere. The two-week construction mission commences in earnest on Friday when the shuttle reaches the ISS. Bon voyage, Endeavour!
more images: from Jim Burchfield of St Cloud, Florida; from Dan Gore of Cocoa Beach, Florida.
---
.2007 Noctilucent Cloud Gallery
[Night-Sky Cameras] ["Noctilucent Cloud"--the song]