Would you like to hear about solar flares--while they're flaring? Get instant alerts from SpaceWeather PHONE.

SOLAR FLARE: Even in decay, sunspot 960 is producing solar flares. An M1-class flare erupted today at 1345 UT, shown in this photo from P-M Hedén of Vallentuna, Sweden. "Wow!" he says. "What a sight!" The eruption did not cause a radiation storm, so it poses no threat to the astronauts in orbit.

LIFTOFF! Space shuttle Atlantis (STS-117) has left the planet. It launched from Cape Canaveral at 7:38 pm EDT on June 8th and is now en route to the International Space Station, where the shuttle's crew will deliver supplies and help install a new pair of solar wings to power the ISS.

The launch itself was spectacular--and then the view improved. "This photo was taken one hour after launch," says photographer Mike Theiss: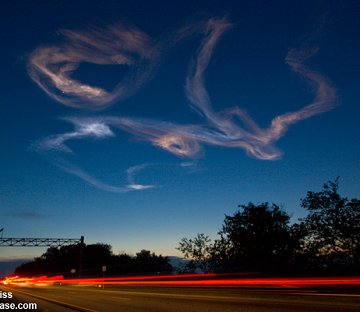 "It looked like Northern Lights had come to Florida," he says.
Actually, this is the shuttle's exhaust plume twisted into curlicues by high altitudes winds. The iridescent colors are caused by tiny ice crystals and possibly water droplets in the exhaust, which diffract the light of the setting sun.
SUNGRAZING COMET: Yesterday, a comet plunged toward the sun and, with the Solar and Heliospheric Observatory (SOHO) looking on, it disintegrated. Click on the image to view a 2 MB movie: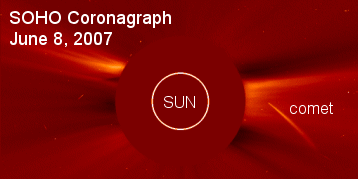 The unexpected comet was probably a member of the Kreutz sungrazer family. Named after a 19th century German astronomer who studied them in detail, Kreutz sungrazers are fragments from the breakup of a giant comet at least 2000 years ago. Several of these fragments pass by the sun every day. Most are too small to see, but occasionally a big one catches our attention.