The space shuttle launches in March. Would you like a call when it soars over your backyard? Spaceweather PHONE!
AURORA MYSTERY MISSION: THEMIS has left the planet. At 6:01 pm EST on Feb. 17th, a Delta rocket carrying five small science satellites blasted off from Kennedy Space Center (KSC). They're on a mission to solve a mystery about the aurora borealis.
"It was a picture-perfect launch," says Mike Theiss at KSC who captured a beautiful sequence of photos: #1, #2, #3, #4, #5.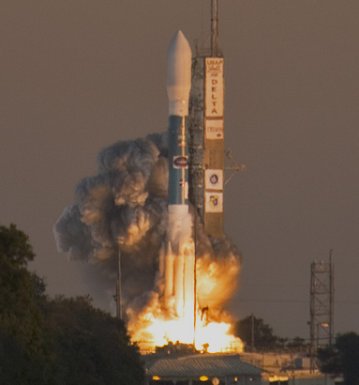 Photo credit: M. Theiss, UltimateChase.com. Copyright 2007, all rights reserved.
The mystery: Sometimes, with no warning, gently shimmering pale auroras erupt in a riot of wildly-shifting colors. This is called an "auroral substorm" and no one knows what causes it.
THEMIS's five satellites are going to spread out in Earth orbit and observe auroral substorms from above, mapping the storms' magnetic fields. Researchers hope these data will reveal the inner workings of substorms and, in the process, teach us a few new things about Earth's magnetosphere. Stay tuned for updates.
February Aurora Gallery
[aurora alerts] [night-sky cameras]
MIRA VARIABLE: "Last night after sunset, the sky was very clear so I went to a small castle near Stuttgart, the town where I live," says Stefan Seip. "I was surprised to see a new star in the constellation Cetus. Yes, it was Mira!"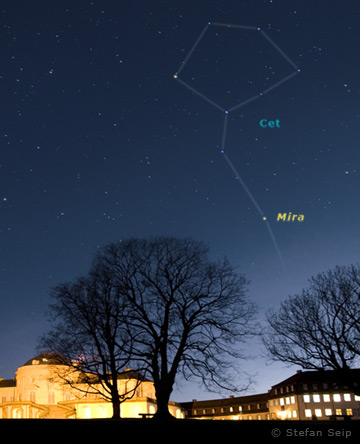 Photo details: Canon EOS 1Ds, Canon EF 16-35mm lens, ISO 800, 10 seconds
Mira is a red giant 420 light years from Earth. The entire star expands and contracts every 320 days or so, brightening from invisibility to 2nd magnitude and back again. At its peak--right now--the star is big enough to swallow our entire solar system out to Mars.
Go outside at sunset, face west and take a look. You may be seeing the future. Some astronomers believe the Sun will become a Mira-variable when it evolves to red gianthood five billion years from now. [finder chart]
EXTRA: On Valentine's Day, Pete Lawrence was in Tromso, Norway, and photographed "Mira the Wonderful" shining through the aurora borealis: image. "If you're going to photograph Mira, you might as well do it in style!" he says.