Cards, flowers, chocolate... what's missing? The heavens. Spaceweather PHONE for Valentine's Day.
WEEKEND RINGS: This weekend Saturn is at its closest to Earth: 762 million miles. It thus looks bigger and brighter both to the naked eye and through a telescope than it will at any other time in 2007. Look for Saturn rising in the east at sunset and soaring nearly overhead at midnight: sky map.
DOUBLE FLARE: An Iridium flare is unforgettable. Sunlight hits a flat surface on one of the Iridium satellites and--wow!--it looks like a supernova.
Make that two supernovas. Last night, Chris White witnessed a double Iridium flare over the Church of St. Peter in Mendota Heights, Minnesota: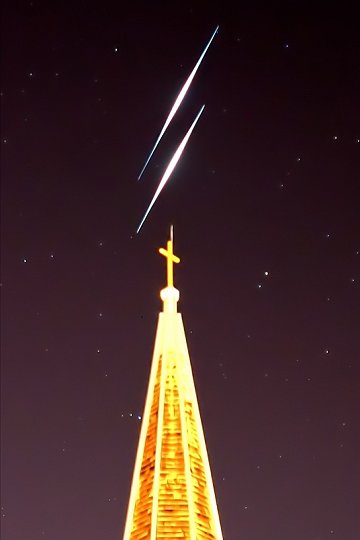 Photo details: Canon 350D, 32mm lens, f/4, 800ASA, 14s
"The flares came from two Iridium satellites, numbers 59 and 96," explains White. "Less than 1 second elapsed between the two flashes, in fact I saw no noticeable delay at all."
There are 66 active and 13 spare Iridium satellites swarming around Earth in six different polar orbits. What are the odds of catching two bright glints from two different satellites within one second? It must not be as rare as it sounds. On the same night in Raron, Switzerland, Peter Heinzen photographed two flares one almost-on-top of the other: image. And in St. Paul, Minnesota, Tony Bombardo photographed the same pair that Chris White saw: image.
Would you like to see an Iridium flare, or two? Visit Heaven's Above for local predictions.
FARSIDE OF THE SUN: An active sunspot may be coming. On Feb. 5th, helioseismic holography revealed a seemingly-large active region on the sun's farside: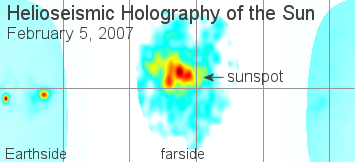 Photo details: Canon 350D, Tamron 19-35mm lens, 800 iso, 30 seconds
And today, a coronal mass ejection (CME) billowed over the sun's eastern limb: movie. Are the two observations connected? We'll know more in a few days. The sun's rotation should carry the farside spot over the eastern limb on Feb 12th or 13th, giving us a better view of its size and explosive potential. Stay tuned.