| | | |
| --- | --- | --- |
| NEW AND IMPROVED: Turn your iPhone or iPod Touch into a field-tested global satellite tracker. The Satellite Flybys app now works in all countries. | | |
AURORA WATCH: A solar wind stream is buffeting Earth's magnetic field, and NOAA forecasters estimate a 40% chance of geomagnetic activity during the next 24 hours. High latitude sky watchers should be alert for auroras.
HI-RES MAGNETIC FILAMENT: A long, dark magnetic filament is looping over the sun's northeastern limb today. Click on the image to see the structure in magnificent 4096x4096 resolution: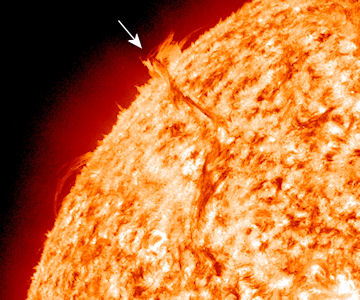 NASA's Solar Dynamics Observatory took the picture just a few hours ago using the highest-resolution cameras ever flown on a mission to study the sun. Plasma trapped inside the filament is dense and cool relative to the seething inferno below. If the filament collapses, as filaments often do, the plasma could hit the surface and explode, producing a Hyder flare or a coronal mass ejection (CME). Readers with solar telescopes are encouraged to monitor developments.
more images: from Robert Arnold of Isle of Skye, Scotland; from Steve Riegel of Santa Maria, CA; from Cai-Uso Wohler of Bispingen, Germany; from Rogerio Marcon of Campinas SP Brasil; from Alan Friedman of Buffalo, NY; from Matthias Juergens of Gnevsdorf, Germany;
JUPITER-ISS CONJUNCTION: On Saturday, May 29th, the International Space Station (ISS) had a conjunction with Jupiter ... in broad daylight. Amateur astronomer Anthony Ayiomamitis of Athens, Greece, recorded the flyby: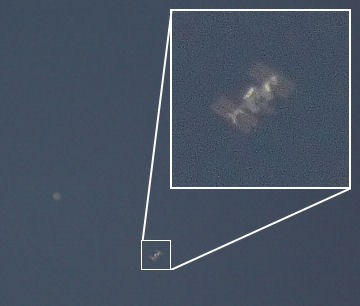 The trick, says Ayiomamitis, was focusing. "Focusing the telescope was very difficult against the mostly-blank blue sky. And there were no big sunspots I could use to fine-tune the focus by observing the sun. I got very lucky!"
His photo shows that with ISS construction now mostly complete the space station subtends an angle bigger than the biggest planet. "Jupiter has an apparent diameter of 37.5 arcseconds, which is second to the passing ISS at 42.1 arcseconds," he notes.
Last week he also photographed the space station transiting the sun. "Broad daylight is an interesting time for ISS photography," he says. Blue-sky transit forecasts may be found at calsky.com.
---
May 2010 Aurora Gallery
[previous Mays: 2008, 2005, 2004, 2003, 2002] [aurora alerts]