| | | |
| --- | --- | --- |
| Metallic photos of the sun by renowned photographer Greg Piepol bring together the best of art and science. Buy one or a whole set. They make a stellar gift. | | |
SOLAR PROMINENCE ALERT: "This morning when I looked through my H-alpha 'scope, I was greeted by this fine spectacular prominence on the sun," reports Dave Tyler of Buckinghamshire UK. "What a nice way to begin the day." Readers with their own solar telescopes are encouraged to check it out.
ROCKET LAUNCH: On Wednesday, June 29th, the US Air Force launched a reconnaissance satellite from NASA's Wallops Flight Facility in Virginia. "As the Minotaur 1 rocket increased in altitude, bright reflections shone off the water and lit up nearby clouds," reports Neil Winston, who sends this picture from Lusby, Maryland. Readers, if you saw mysterious lights over the US east coast last night around 11:09 pm EDT, that is probably what it was.
REMOTE SOLAR ECLIPSE: If the Moon covers the sun and no one is around to see it, did the eclipse actually happen? Philosophical riddles may be all we get on July 1st (0840 UT) when the Moon covers 9.7% of the solar disk. Receiving an actual picture of the partial eclipse is unlikely because of its very remote location: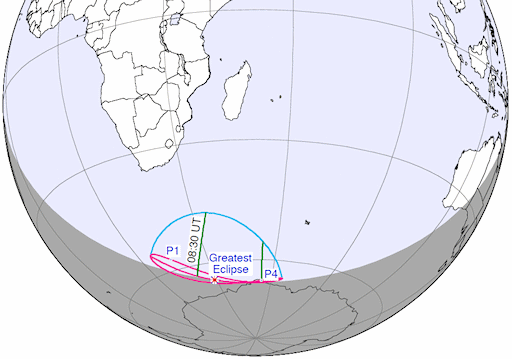 "This Southern Hemisphere event is visible from a D-shaped region in the Antarctic Ocean south of Africa," says eclipse expert Fred Espenak of the Goddard Space Flight Center. "Such a remote and isolated path means that it may very well turn out to be the solar eclipse that nobody sees."
Just in case someone does see it, Spaceweather.com is staging a photo contest. To the photographer who submits the best picture of the event, we will pay $50.00 in cash and award a 6-month subscription to Spaceweather PHONE. Remote observers should submit their images here.
Eclipse resources: (1) animated map, (2) contact times, (3) webcasts--not!
ELECTRIC BLUE SUNSETS: The 2011 season for noctilucent clouds is gaining steam. Reports of electric-blue sunsets are now coming in from all the countries of northern Europe, Russia, Alaska and Canada. "We had our first sighting of NLCs on June 28th," reports Alan Dyer. He took this picture from Gleichen in southern Alberta: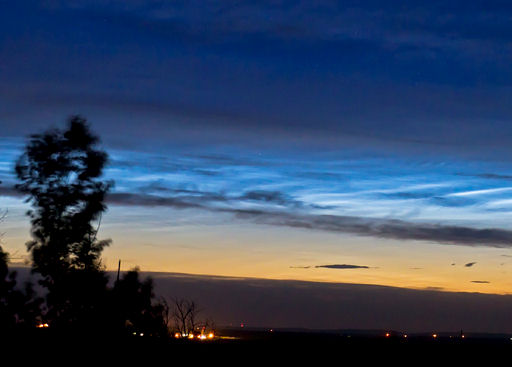 "It was quite bright at 11:45 pm MDT local time and faded shortly after midnight," he says. "A nice display!"
Back in the 19th century, these mysterious clouds were confined to high latitudes, mainly around the poles. In recent years, however, NLCs have spread toward the equator, appearing in places such as Utah, Colorado, and perhaps even Virginia. Is this a sign of climate change? Some researchers think so. Sky watchers at all latitudes are encouraged to be alert for electric blue just after sunset or before sunrise; observing tips may be found in the 2011 NLC gallery.
NEW: 2011 Noctilucent Cloud Gallery
[previous years: 2003, 2004, 2005, 2006, 2007, 2008, 2009]
---
June 2011 Aurora Gallery
[Aurora alerts: text, voice] [previous Junes: 2010, 2008, 2001]
---