| | | |
| --- | --- | --- |
| It's a once in a lifetime event: the June 5th Transit of Venus across the sun. Watch the world wide webcast sponsored by the Coca-Cola Science Center and NASA. | | |

ASTEROID SIGHTING: In an age of CCD cameras and high-speed digital recorders, University of Colorado Prof. Richard Keen has done something unusual. He observed an asteroid flyby with nothing but optics and the human eye. On May 29th, newly-discovered asteroid 2012 KT42 passed closer to Earth than a geosynchronous satellite. "Bent over the eyepiece of my 12-inch telescope, I tracked the little space rock for 42 minutes," says Keen. "Along the way it brightened from magnitude 11.5 to 10.5, about a whole magnitude brighter than predicted. Aside from some meteorites I've held in my hands and other meteors flashing though the upper atmosphere, this is the closest astronomical object I've ever seen. According to the NASA ephemeris, 2012 KT42 was just 19158 km from my house when I last saw it--about the same as a plane flight to Australia."
CANVAS FOR A TRANSIT: In only 6 days, Venus will pass in front of the sun, marking the solar disk like the tip of a black-dipped paint brush drawn slowly across the stellar surface. If the transit is indeed like a painting, here is the canvas: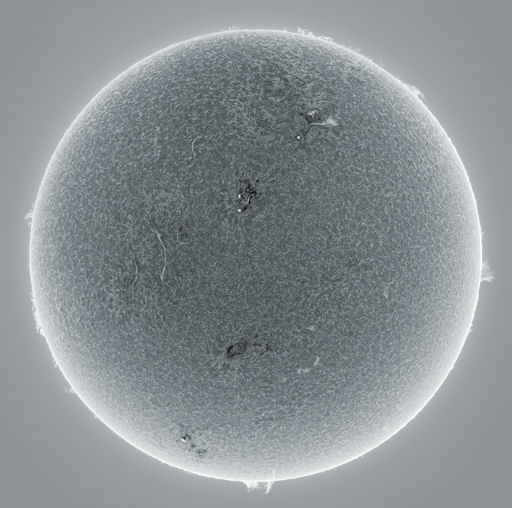 Alan Friedman took the picture from his backyard observatory in Buffalo, NY, on May 28th. "I was getting my ducks in a row for a trip west to observe the transit of Venus, practicing with a new camera and new laptop on the Memorial Day sun," he says. "There was lots of activity to see, including an ejection of plasma from active region 1492."
"What treats will the sun put out when Venus pays a visit next week?" Friedman wonders. Stay tuned.
more images: from Sergio Castillo of Inglewood, California; from Rijk-Jan Koppejan of Middelburg, the Netherlands; from Randy Shivak of Anthem, AZ; from Andre van der Hoeven of HI-Ambacht, the Netherlands; from Dennis Cumberland of Fort St. James B.C.
VENUS SLENDERIZES: As Venus approaches the sun for a much-anticipated transit on June 5-6, the second planet is turning its night side toward Earth. Seen through a telescope, all that remains of Venus is a vanishingly-slender crescent: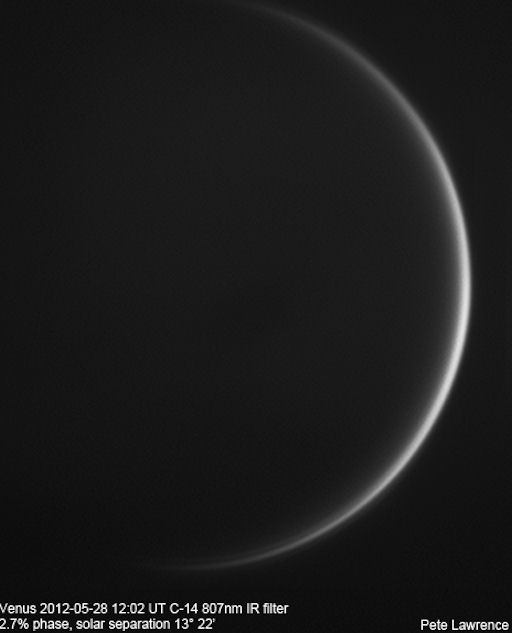 Pete Lawrence of Selsey, UK, took the picture in broad daylight on May 28th: "This beautiful planet has just slipped below 2.7% phase on it's way to the historic transit on June 5/6. We had clear sunny weather today, so I was able to capture Venus in daylight conditions."
In words and a picture, he explains how he accomplished the daytime shot: "Sun shields were erected to shade the main telescope. In addition, the main tube was wrapped in aluminium foil in an attempt to keep it cool and prevent internal air currents from distorting the view. Note the proper solar filter--i.e. not foil!--covering the full aperture."
The crescent of Venus could soon become a ring. When Venus is less than few degrees away from the sun, the horns of the crescent soetimes reach around and touch, producing a complete annulus. The effect is caused by sunlight-scatteriing particles in upper layers of Venus's atmosphere. It is very difficult to observe, and often only black-belt astrophotographers are able to record the phenomenon.
Keep an eye on SpaceWeather's realtime photo gallery to see how Venus shape-shifts in the days ahead.
Space Weather Real Time Image Gallery
[Submit your photos] [NASA video: 2012 Transit of Venus]