| | | |
| --- | --- | --- |
| Are we alone? Your iPhone has the answer. Download the all-new Drake Equation app to calculate the population of the Milky Way. | | |
DOUBLE FLYBY ALERT: Space shuttle Endeavour will undock from the International Space Station tonight, May 29th, at 11:55 pm EDT. Undocking sets the stage for a series of beautiful double flybys: The shuttle and station will soar through the night sky side-by-side in advance of Endeavour's final landing on June 1st. Check the Simple Satellite Tracker or your cell phone to see if you are favored with an apparition.
ACTIVE SUNSPOT: "This morning I pointed my solar telescope through a gap in the clouds to look at the new 'hot-spot' on the sun - AR11226," reports Pete Lawrence of Selsey, UK. "Wow! I'm glad I did. The bright flaring regions within the sunspot group are incredible." Caught in mid-erupton, the active region nearly saturated his camera: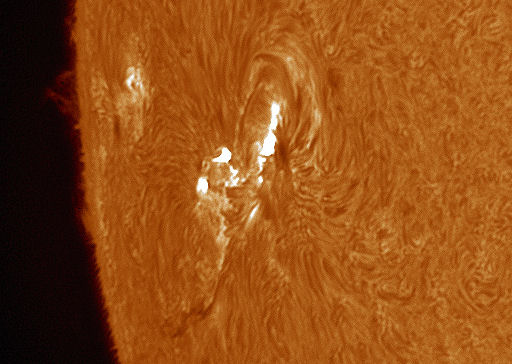 "A white light image of the region shows the underlying sunspot complex," says Lawrence. "Impressive!"
Sunspot 1226 and another unnumbered sunspot trailing behind it are responsible for this weekend's sudden surge of solar activity. The sunspots are crackling with C- and M-class solar flares. So far, none of the blasts has been geoeffective, but this could change in the days ahead as the active region turns toward Earth.
SUNSPOT TELESCOPE: Readers, please note a new addition to the Space Weather Store. Explore Scientific's White Light Solar Observing System is the perfect tool for monitoring sunspots like AR11126. And it doubles as a regular telescope at night---double the fun!
more images: from Robert Arnold of Isle of Skye, Scotland; from Karzaman Ahmad of Langkawi National Observatory, Malaysia; from John Chumack of Dayton, Ohio; from Cai-Uso Wohler of Bispingen, Germany; from David Evans of Coleshill, North Warwickshire, England, UK; from Iakovos Marios Strikis of Athens - Greece; from Peter Desypris of Athens,Creece
GEOMAGNETIC STORMS: A stream of high-speed solar wind is buffeting Earth's magnetic field and stirring up geomagnetic storms. At this time of year, the midnight sun interferes with the visibility of Northern Lights over Alaska and Scandinavia, but the situation is different on the other side of Earth. Southern Lights were on full display this morning in the dark autumn skies of Queenstown, New Zealand: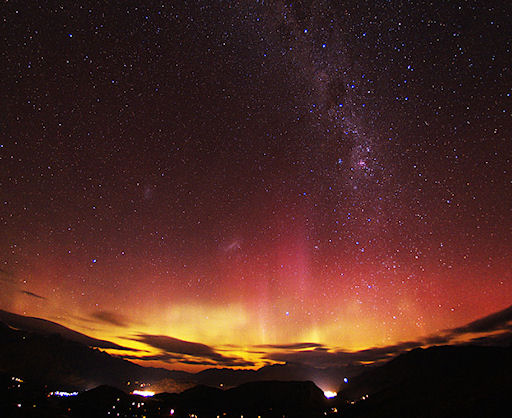 "I actually missed the most intense part of the display," says photographer Minoru Yoneto. But as this 30-second exposure shows, "better late than never!"
High-latitude sky watchers should remain alert for auroras as the solar wind continues to blow. NOAA forecasters estimate a 20% - 25% chance of geomagnetic storms in the next 24 hours. Aurora alerts: text, voice.
more images: from Brian Larmay of Pembine, Wisconsin; from Neva Andersen of Saint Cloud, MN; from Dave Curtis of Dunedin, New Zealand; from Ian Stewart of Hobart, Tasmania, Australia; from Zoltan Kenwell of East of Edmonton, Alberta, Canada; from Tom Luttrell of Mount Nelson Signal Station, Hobart, Tasmania; from Beatrice van Eden of Antarctica;
---
April 2011 Aurora Gallery
[previous Aprils: 2010, 2009, 2008, 2007, 2006, 2005, 2004, 2003, 2002]