Where's Saturn? Is that a UFO--or the ISS? What's the name of that star? Get the answers from mySKY--a fun new astronomy helper from Meade.

THE WORLD AT NIGHT: "I'm pleased to announce a new web site, The World Night At Night," says Iranian photographer and science journalist Babak A. Tafreshi. "It is a photo-collection of the world's most beautiful and historic sites against the nighttime backdrop of stars, planets and celestial events. The eternally peaceful sky looks the same above all nations, attesting to the truly unified nature of Earth as a planet rather than an amalgam of human-drawn territories." The site's galleries are a Christmas treat.

SOLAR ACTIVITY: Sometimes the best solar activity is a sunrise. Consider this one photographed by Xiaowen Yang of Beidaihe Qinghuangdao, China, on Dec. 23rd: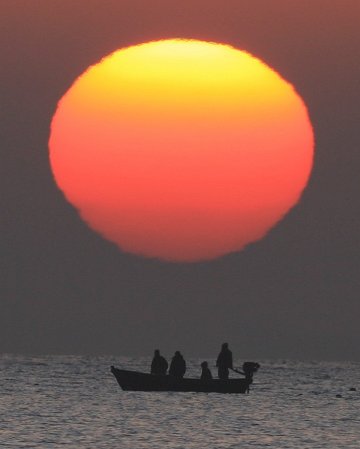 The sun's strange shape is not a flaw in Yang's camera; it's a mirage caused by a gradient in air temperature above the water. Moments before this photo was taken, the spellbound fisherman witnessed an even stranger shape: the omega sun once popularized by science fiction writer Jules Verne. Click to browse the complete sunrise sequence: #1, #2, #3, #4.
Because the sun is so utterly blank and quiet--no sunspots!--sunrises and sunsets are the only solar activity we're likely to see for the rest of the week. A beach is the best place to look.
DIAMOND DUST: Imagine tossing a handful of diamonds into the air and watching them fall back to Earth, tumbling in the sunlight and glittering with all the colors of the rainbow. That's essentially what happened outside Ivar Marthinusen's house in Skedsmokorset, Norway, on Dec. 21st: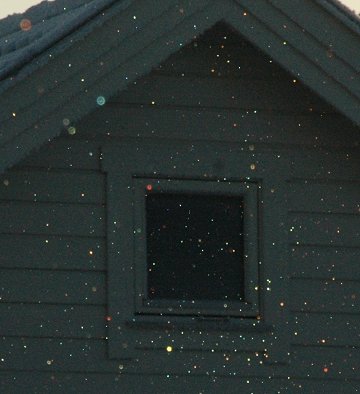 Each colored speck in this picture is a mote of diamond dust. "These are jewel-like crystals of ice flashing prismatic colors," explains atmospheric optics expert Les Cowley. Diamond dust crystals form on cold days in the air near ground level. "They are close and we see the individual glints and can even wave our arms to stir them about."
The truly wonderful thing about diamond dust crystals is that when millions of them get together, they can make spectacular halos around the sun. Indeed, "some very nice halos appeared on Dec. 21st," says Marthinusen. "For a while the 22 degree, 46 degree, upper tangent arc and sundogs were all visible."
"The season of diamond dust is upon us in the Northern Hemisphere," adds Cowley. "So check the sky during the icy dawns and days of the next few weeks!"
---
Comet 8P/Tuttle Photo Gallery
[World Map of Comet Sightings]
[sky map] [comet cameras] [ephemeris] [orbit]