The space station is visible in the night sky this month. Would you like to see it? Sign up for Spaceweather PHONE.
SUNSET PLANET: When the sun goes down tonight, step outside and look west. As the sky fades to black, you'll see Mercury pop out of the twilight. The Incredible Shrinking Planet is making a rare appearance in the evening sky: finder chart.
SPACE STATION SIGHTINGS: This week and next, the International Space Station (ISS) will perform a series of beautiful passes over North America. It's easy to see--you just have to know when to look.
On Feb. 13th, Ed Morana of Livermore, California, caught the ISS transiting the moon's Sea of Nectar: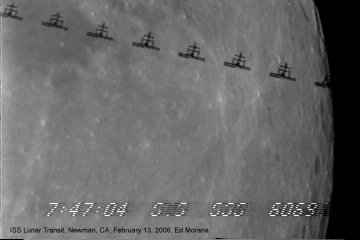 Movie: gif (200k), mpeg (1.2 MB), Windows Media (250k)
"This is a composite of 8 images I extracted from video," says Morana, who used a 10-inch telescope and a CCD camera to observe the transit: details. Although space station transits of the moon have been recorded before, this one is probably the finest to date. The station's solar panels, radiators and living quarters are marvelously distinct.
AURORA SURPRISE: A solar wind gust hit Earth's magnetic field on Feb 19th, sparking a geomagnetic storm and auroras across parts of North America. "What a nice surprise on President's Day," says Andre Clay who snapped this picture from Harding Lake, Alaska: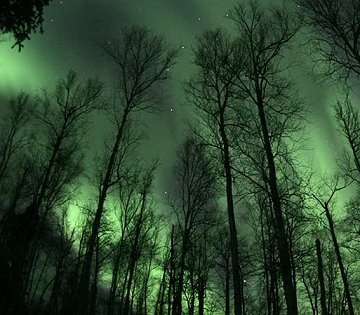 A US Air Force DMSP satellite photographed the same auroras from above. In the satellite image, the most intense ribbons of aurora-light rival the manmade city lights of Fairbanks.
The auroras have subsided, but Earth remains inside a high-speed solar wind stream. Another good gust could trigger more Northern Lights: gallery.