Where's Saturn? Is that a UFO--or the ISS? What's the name of that star? Get the answers from mySKY--a fun new astronomy helper from Meade.

CELESTIAL LINE: Last night in Pensacola, Florida, astronomy professor Wayne Wooten photographed a rare Euclidean line-up of the Moon, Venus, Saturn and Regulus: image. During the next 48 hours, the Moon will slide along this line, eclipsing each "point" in succession: #1, #2, #3. The first eclipse happened earlier today in Europe. Read on...

DAYLIGHT ECLIPSE OF VENUS: Today in the azure mid-afternoon skies of Europe, the crescent Moon eclipsed Venus. Achim Schaller of Germany's southern Rhine Valley snapped this picture moments before the planet disappeared: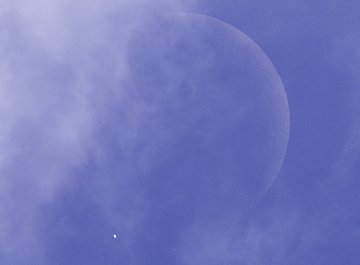 Photo details: Nikon D200, 1/1000s at ISO 100
Lunar Eclipse of Venus Photo Gallery
more images: from Tunç Tezel of near Bolu, Turkey; from Miroslav Grnja of Bratislava, Slovak Republic; from Stephane Palfray of Etainhus, Normandy, France; from Mikhail L. Kuzmin of Moscow, Russia; from Joerg Schoppmeyer of Freiburg, Germany
SOLAR SILHOUETTE: On June 16th, the eve of Father's Day, Alan Friedman and his daughters Sophie (age 15) and Lily (age 12) climbed atop the roof of their porch in downtown Buffalo. "It was the only place we could see the afternoon sun," he explains. From there "we watched and photographed a wonderful transit of the International Space Station (ISS) against the disk of the sun." (continued below)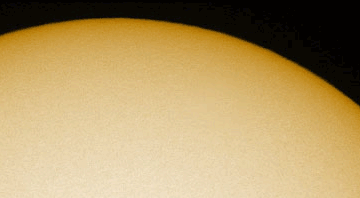 Photo details: 92mm A-P refractor, DMK 21BF04 webcam, Baader solar filter.
"The transit was a scant 2/3 of a second in duration, but we did see it on the computer monitor, and managed to capture 10 frames--just enough to make this slow motion record of the event. We had a blast!"
A still frame from the movie shows the dragonfly-silhouette of the space station. The wings are solar arrays, two of them having just been unfurled by the crew of space shuttle Atlantis. The ISS keeps growing, so stay tuned for new silhouettes.