| | | |
| --- | --- | --- |
| Turn your cell phone into a field-tested satellite tracker. Works for Android and iPhone. | | |
HOW'S THE WEATHER? "Lately, the Sun has been behaving a bit strangely," write Lika Guhathakurtha (NASA) and Dan Baker (U. Colorado) on the opinions page of today's New York Times. In 2008-2009, solar activity plunged to a hundred-year low; and now that the sun is waking up again, no one is able to predict what will happen next next. "Will solar activity continue to be sluggish, or will solar storms return with pent-up vigor?" they ask. Good question! Read the full editorial here.
WEAK IMPACT: A sharp gust of solar wind hit Earth's magnetic field today, June 17th, at approximately 0230 UT. This probably signaled the arrival of a CME en route from the sun since June 14th. The impact did not spark a significant geomagnetic storm, so bright auroras tonight remain unlikely.
FOUR FLYBYS: Amateur astronomer Tom Warner did a double take on June 14th when the International Space Station flew twice over his hometown in Rapid City, South Dakota. Little did he know, two more takes would be required. "By the time the night was over, I had recorded four flybys of the ISS," he says.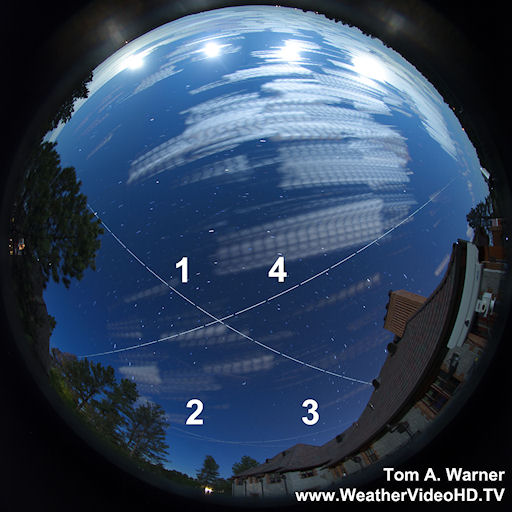 "The first and last passes, just after sunset and before sunrise, were the highest and brightest," says Warner. "The middle passes were less intense, but even they were easily seen through the glare of the full Moon."
This flyby flurry is part of an ongoing "space station marathon." Observers in the northern hemisphere are reporting multiple flybys every night--especially around sunrise and sunset. Ready for your own double-take? Check the Simple Satellite Tracker for flyby times.
LUNAR ECLIPSE: On Wednesday night, June 15th, sky watchers in Africa, Asia, South America, Australia, Antarctia and Europe witnessed the longest lunar eclipse in nearly 11 years. Only North America was excluded as Earth's shadow engulfed the full Moon for a whopping 100 minutes. In the countryside near Szubin, Poland, clouds and fog combined with the amber light of the eclipse to produce this eerie scene: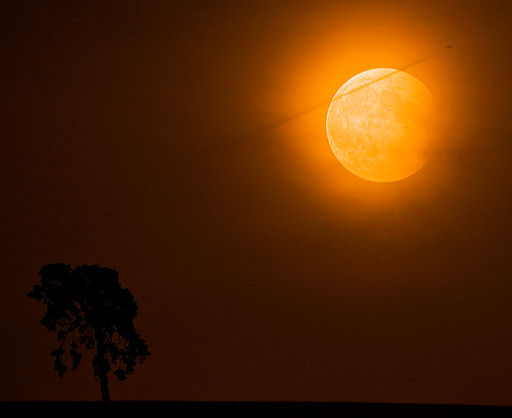 "The view of the Moon was amazing and fantastic," says photographer Marek Nikodem.
NEW: June 15th Lunar Eclipse Gallery
more images: from Amir H. Abolfath of Firuzkuh, Tehran, Iran; from Iakovos Marios Strikis of Athens, Greece; from Moulley Charaf Chabou of Setif, Algeria; from Monika Landy-Gyebnar of Veszprem, Hungary; from Cadu Rolim of Mole Beach, Florianópolis, SC, Brazil; from Tony Surma-Hawes of Brisbane, Queensland, Australia; from Rafael Schmall of Veszprem, Hungary; from Mohammad Shirani of Cyberjaya ,Malaysia; from Johan Pauly of Belgium; from Andrej Gustin of Ljubljana, Slovenia; from Jarle Aasland of Stavanger, Norway; from Albert Kong of Hsinchu, Taiwan; from Liz Gleeson of Townsville, North Queensland, Australia
---
June 2011 Aurora Gallery
[Aurora alerts: text, voice] [previous Junes: 2010, 2008, 2001]
---
Midnight Solar Eclipse Gallery
[NASA: A Rare Eclipse of the Midnight Sun]