What's the name of that star? Where's Saturn? Get the answers from mySKY--a fun new astronomy helper from Meade.
SUNSET PLANETS: When the sun goes down tonight, step outside and look west into the glow of sunset. You may be able to see Mercury and a super-slender crescent Moon hanging together just above the horizon. It's a beautiful sight, improved by the use of binoculars. Take a look! [sky map]
images: from Michael Bromley at the Kufrah Oasis in the Sahara Desert of Libya
RADIO-ACTIVE SUNSPOT: "After a long quiet spell, the sun is making noise again," reports Thomas Ashcraft of New Mexico. On Maqy 15th, using a 21 MHz ham rig, he recorded the roaring sounds of a Type III solar radio burst: listen.
A broadband radio telescope at the University of Florida Radio Observatory detected the same burst. The plot, below, shows how energy was spread across the shortwave spectrum: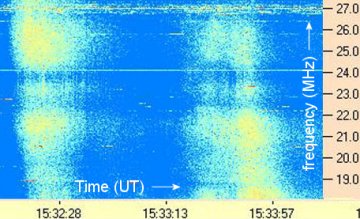 David Thomas of Lynchburg, Virginia, recorded yet another outburst on May 15th using his RadioJove amateur radio telescope: data.
The source of all this activity is young sunspot 956. The sunspot emerged near the sun's eastern limb less than 48 hours ago and has been growing at breakneck speed every since. In addition to the radio bursts, the sunspot also produced a beautiful coronal mass ejection: movie.
Ham radio operators may wish to point their Yagis toward the sun. Sunspot 956 is crackling with small solar flares and may produce more radio bursting in the days ahead. Stay tuned!
GALACTIC FOSSIL: "The scientific community is still buzzing about the discovery of HE 1523-0901, a 13.2 billion year old star which formed a mere 500 million years after the Big Bang," says Anthony Ayiomamitis of Athens, Greece. "I took this picture of the star on May 13th."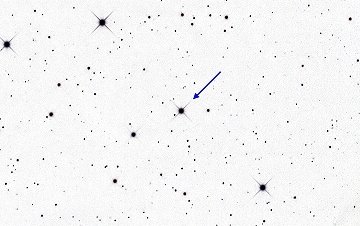 Photo details: 160mm Starfire telescope, SBIG ST-2000XM, 2 hr exposure.
Indicated by the arrow, HE 1523-0901 is 11th magnitude and located in the constellation Libra. It looks much like any other star in the area--but it is special. HE 1523-0901 is one of the oldest stars in the Milky Way, perhaps one of the oldest in the Universe, and by studying it astronomers may be able to learn new things about the genesis of our galaxy.
A team of astronomers led by Anna Frebel of the University of Texas dated the star using a technique similar to carbon-14 dating. HE 1523-0901 contains radioactive elements uranium and thorium. (These elements leave their imprint on the star's spectrum, which is how they can be detected and measured.) By comparing the abundance of uranium and thorium to other elements in the star which do not decay, the researchers were able to make six independent estimates of the star's age, and they all agreed: 13.2 billion years. Click here to read the original research.