The space shuttle launches in March. Would you like a call when it soars over your backyard? Spaceweather PHONE!
THEMIS SET TO LAUNCH: In less than 30 minutes, NASA will launch a fleet of five satellites into Earth orbit. The name of the mission is THEMIS and its goal is to solve the mystery of auroral substorms.
AURORA ROCKETS: Before dawn on February 14th, scientists launched four sub-orbital rockets from the University of Alaska's Poker Flat Research Range directly into the aurora borealis over northern Alaska. Photographer Lance Parrish snapped this picture: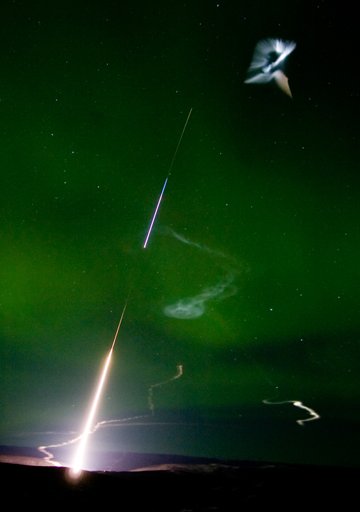 Photo details: Canon EOS 5D, 24 mm:1.4 lens, 4 seconds exposure.
Each of the rockets released a puff of trimethylaluminum (TMA), a harmless substance that glows when exposed to oxygen. "TMA clouds from the first three rockets are visible in the picture," says Parrish. By watching the swirls, researchers were able to trace high-altitude winds--important data for understanding the inner workings of aurora borealis. [full story]
February Aurora Gallery
[aurora alerts] [night-sky cameras]
MIRA VARIABLE: "Last night after sunset, the sky was very clear so I went to a small castle near Stuttgart, the town where I live," says Stefan Seip. "I was surprised to see a new star in the constellation Cetus. Yes, it was Mira!"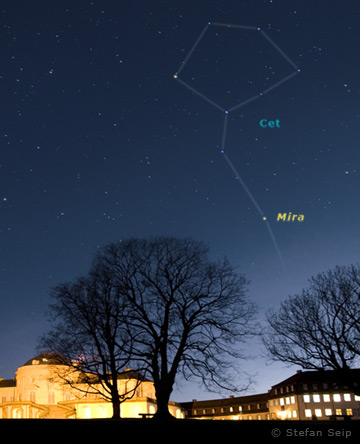 Photo details: Canon EOS 1Ds, Canon EF 16-35mm lens, ISO 800, 10 seconds
Mira is a red giant 420 light years from Earth. The entire star expands and contracts every 320 days or so, brightening from invisibility to 2nd magnitude and back again. At its peak--right now--the star is big enough to swallow our entire solar system out to Mars.
Go outside at sunset, face west and take a look. You may be seeing the future. Some astronomers believe the Sun will become a Mira-variable when it evolves to red gianthood five billion years from now.