LAUNCH STATUS: Space shuttle Endeavour, temporarily grounded by a hydrogen leak, should be ready to launch on June 17th, according to a Sunday evening announcement by NASA. The Lunar Reconnaissance Orbiter is currently scheduled to launch on that same date, so the moon mission could be bumped back to June 19th or 20th. The situation will sort itself out in the next 24-48 hours as repairs on Endeavour proceed. Stay tuned for updates.
TRIANGLE OF FIRE: This weekend, astronomers have been monitoring a colossal "triangle of fire" on the limb of the sun. Click on the image below to launch a 1.5 hour movie (DivX required) recorded by Larry Alvarez of Flower Mound, Texas: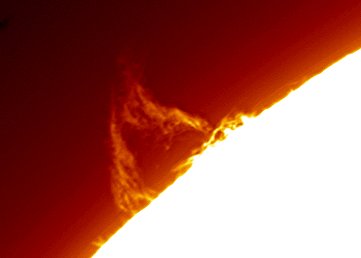 "The movie shows several blobs of plasma dripping like rain from the arch, while others leap up from the sun's surface to join the action," describes Alvarez. "At the end there is a small explosion off to the left that is extremely quick."
Prominences are clouds of hot plasma (ionized gas) held aloft by solar magnetic fields. How "plasma blobs" manage to leap and fall through the magnetic thicket is a matter of keen interest to nuclear engineers. Controlling plasma is key to the development of fusion reactors, and the sun is an excellent laboratory for studying interactions between plasma and magnetic fields.
There are many more prominences dancing around the edge of the sun today. Readers, if you have a solar telescope, take a look.
more images: from Guenter Kleinschuster of Feldbach, Styria, Austria; from Jacob Bassøe of Copenhagen, Denmark; from Mike Borman of Evansville, Indiana; from P. Fitzpatrick et al of South Portland, Maine; from Didier Favre of Brétigny-sur-Orge, France; from Günther Strauch of Borken, Germany; from Cai-Uso Wohler of Bispingen, Germany; from Matthias Juergens of Gnevsdorf, Germany; from Eric Roel of Valle de Bravo, México;
CIRCLE OF ICE: Hours ago, Odd Hoydalsvik looked up and saw a luminous white circle ringing the sky around his home in Koppang, Norway. It was huge, and this is as much of it as he could fit in the field of view of his Canon 450D: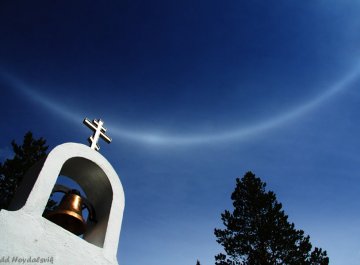 The phenomenon is called a parhelic circle--"the first one I've ever seen," says Hoydalsvik. The great pale rings are formed by sunlight reflecting from the faces of ice crystals in high clouds. Many kinds of reflections (internal, external, single, double, triple and more) combine to form the complete circle. "The parhelic circle appears simple, yet more ray paths contribute to it than in any other halo," notes atmospheric optics expert Les Cowley.
Parhelic circles go completely around the sky--akin to the ring around a dirty bathtub--always at the same altitude as the sun. So when you see a portion of a parhelic circle, spin around to take in the whole thing. "It is beautiful," says Hoydalsvik.
more images: from John Stadtmiller of Tolsona, Alaska; from Erwan Henry of Carnac, Brittany, France; from Eva Seidenfaden of Trier, Germany; from Herfried Eisler of Strasbourg, France
---
2009 Noctilucent Photo Gallery
[previous years: 2008, 2007, 2006, 2005, 2004, 2003]
---