| | | |
| --- | --- | --- |
| Metallic photos of the sun by renowned photographer Greg Piepol bring together the best of art and science. Buy one or a whole set. They make a stellar gift. | | |
CHANCE OF AURORAS: NOAA forecasters estimate a 30% of minor geomagnetic storms on Feb. 13-14 in response to the possible arrrival of a CME that left the sun on Feb. 10th. High-latitude sky watchers should be alert for auroras. Storm alerts: text, voice.
OLD SUNSPOT RETURNS: Sunspot AR1402, which unleashed an X2-class solar flare on Jan. 27th, has returned after a two-week transit around the far side of the sun. Two weeks of decay have greatly reduced the old active region: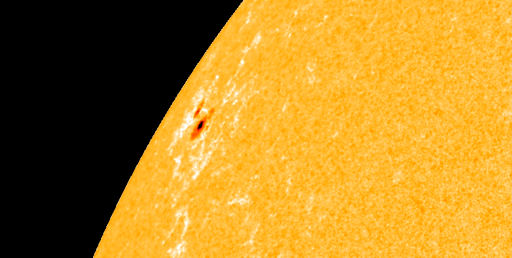 The sunspot group, re-numbered AR1419 for its second apparition, is crackling with B- and C-class solar flares. These flares are minor compared to the eruptions of January. The return of AR1402 is mainly significant for nostalgic reasons.
IRANIAN SATELLITE: On Feb. 3rd, Iran launched the country's third satellite. Named "Navid," the 110-pound mini-spacecraft is meant to stay in orbit for 18 months, sending back images to Iran as it completes a revolution of Earth every 90 minutes. On Feb. 10th, veteran satellite observer Marco Langbroek photographed Navid as it passed over his home in Leiden, the Netherlands: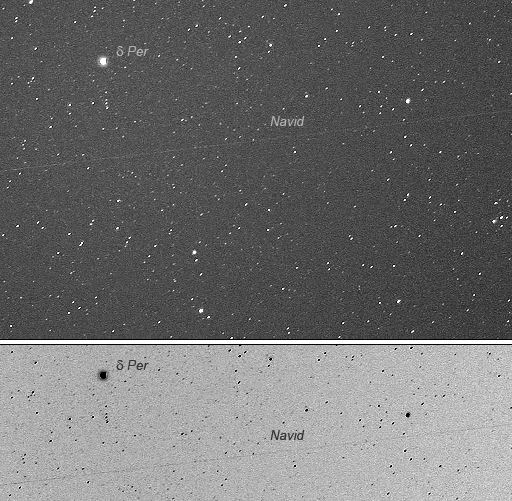 "It was a clear evening and I had a 71 degree elevation pass of Navid, which moves in a 250 x 375 km orbit," says Langbroek. "The satellite was invisible to the naked eye (I estimate its magnitude as +7), but my camera was able to record its faint trail moving just south of the alpha Persei star association. Measuring only 50 x 60 cm, Navid is the smallest object in orbit I have ever photographed."
Readers, although you can't see Navid, you can find out when it is flying overhead and possibly photograph it as Langbroek did. Local flyby times are available from SpaceWeather's Simple Satellite Tracker and Flybys App.
THE VIEW FROM ABOVE: On Friday, Feb. 10th, NASA released a new set of videos from the International Space Station that officials said was among "the most spectacular night imagery ever taken from space of the United States." After watching the following movie (48 MB), you might find it hard to disagree: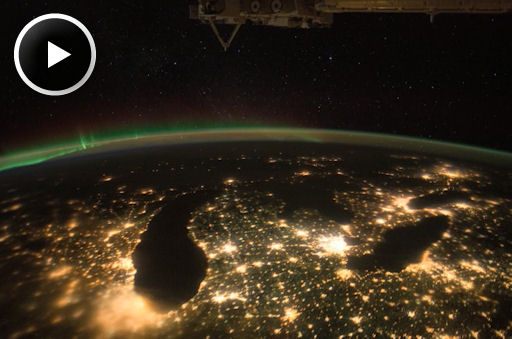 NASA describes the footage: "The sequence of shots was taken January 30, 2012 from 06:13:36 to 06:23:09 GMT, on a pass from northern Mexico to northwest New Brunswick. The video begins looking northeast over Texas, where cities like San Antonio, Houston, and the Dallas/Fort Worth area can be seen. Oklahoma City, Kansas City, and St. Louis are easily distinguished as the ISS continues northeast over the Great Plains. The video concludes with Chicago illuminating the southern edge of Lake Michigan, and auroras shimmering in the distance over Canada."
The auroras in the video appeared on a relatively uneventful night, geomagnetically speaking, when a CME completely missed Earth. Apparently, even the quiet nights are spellbinding onboard the ISS.
January 2012 Aurora Gallery
[previous Januaries: 2010, 2009, 2008, 2007, 2005, 2004]
---
Comet Lovejoy Gallery
[previous comets: McNaught, Holmes, Lulin, Tuttle, Ikeya-Zhang]