| | | |
| --- | --- | --- |
| Metallic photos of the sun by renowned photographer Greg Piepol bring together the best of art and science. Buy one or a whole set. They make a stellar gift. | | |
HUNTER'S MOON: There's a full Moon tonight and according to folklore it has a special name--the Hunter's Moon. It gets its name from Native American hunters who tracked and killed their prey by autumn moonlight, stockpiling food for the winter ahead. This year's Hunter's Moon is beautifully close to the planet Jupiter. [sky maps: Oct. 11, 12, 13]
Hunter's moonshots: from P-M Hedén of Vallentuna, Sweden; from Kevin Jung of Grand Rapids, Michigan
DRACONID METEOR BALLOON: During the peak of the Draconid meteor shower on Oct. 8th, a group of students in Bishop, California, flew a helium balloon to the stratosphere to try to record some Draconid fireballs in the darkness at high-altitude. Five cameras recorded more than 50 GB of data, which the team is sifting through now for evidence of meteors. While we're waiting for the meteor count, the team offers this video of the balloon popping about 100,000 feet above Earth: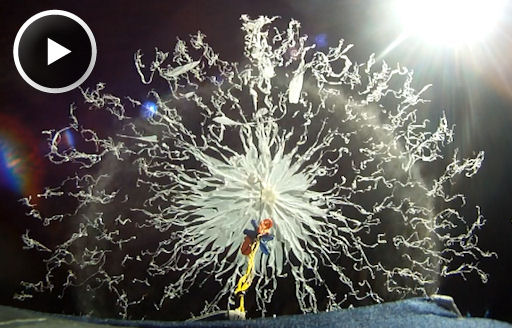 Video: realtime, slow motion. Credit: Earth to Sky, copyright 2011, all rights reserved
Note the ghostly halo around the center of the exploding balloon. That's probably the fine talcum-like powder added by the manufacturer to keep the balloon from sticking to itself. Here is the explosion again in slow motion. Be sure to turn up the volume to hear the sound of the balloon popping. The delay proves that light is faster than sound even in the stratosphere.
The balloon pops by design when it reaches the apex of the flight. Immediately, the payload plummets Earthward, falling several hundred mph through the vanishingly thin air of the stratosphere. To arrest the fall, a parachute opens and delivers the payload gently to Earth about 25 minutes later. The Draconid payload landed in the rugged but beautiful Inyo mountains of central California where it was recovered by the team on Oct. 9th.
more images: Owens River, Snowy Sierras; hi-res pop sequence: #1, #2, #3, #4, #5
DRACONID BOREALIS: The Draconid outburst of Oct. 8th sent more than 400 meteors per hour shooting out of the high-northern constellation Draco. With visibility favoring the countries of the Arctic, it is no surprise that many photographers caught Draconids cutting through the Northern Lights. Antony Spencer sends this example from Kiruna, Sweden:
"I was leading a workshop to teach students how to photograph the aurora borealis," says Spencer. "We had a blast photographing incredible auroras from dusk to dawn, with plenty of Draconid meteors thrown in as well. What a spectacle! It was a night I will always remember. I was dancing around when I saw I had captured the meteor near the center of the corona (shown above)."
more images: from Hans Schremmer of Porjus/Schweden; from Ed Stockard of Summit Station, Greenland; from Ulf Jonsson of Gussö, Sweden; from Gary Newman of Kiruna, Sweden; from Paul Mohan of Northville, Michigan; from Miguel Claro of Setúbal, Portugal; from Ricardo ML Alves da Silva of Guincho beach, Portugal; from Jesper Grønne of Silkeborg Denmark; from John Chumack of Dayton, Ohio; from Antonio Finazzi of Bettola (PC) - Italy; from Frank Olsen of Tromsø, Norway