Where's Saturn? Is that a UFO--or the ISS? What's the name of that star? Get the answers from mySKY--a fun new astronomy helper from Meade.

SPACE STATION FLYBYS: Space shuttle Endeavour is docked to the International Space Station, and the pair are orbiting over Europe this weekend, making many bright evening passes. Last night in Gencsapáti, Hungary, Gábor Szendrői saw the spaceships through his 14-inch backyard telescope: image. Europeans, get your flyby predictions from Heavens Above.

PERSEID FIREBALLS: The Perseid meteor shower is underway. Don't panic, the peak doesn't occur until August 12th and 13th, but already 10+ shooting stars per hour may be seen during the dark hours before dawn. On August 9th, Thomas O'Brien caught this green fireball streaking over the mountains near Aspen, Colorado: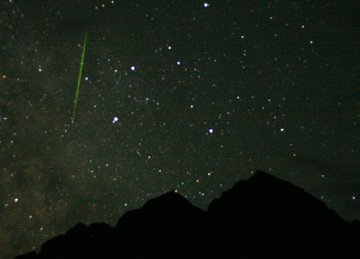 "I saw lots of green and yellow meteors," he says. Why the colors? Yellow can be a sign of sodium-rich meteoroids; hot sodium vapors glow yellow like a sodium discharge lamp. Green may be due to oxygen--not in the meteoroid but in Earth's atmosphere. When a meteoroid rips through the atmosphere, air in its path becomes so hot that oxygen molecules briefly lose one of their electrons. They recombine (e- + O2+) very rapidly, emitting green photons as a side-effect. A similar process is responsible for the green colors of many auroras.
Sky watchers, be alert for colorful Perseids in the nights ahead.
2007 Perseid Meteor Gallery
[observing tips] [sky map]
THE VIEW FROM ABOVE: Astronauts onboard the ISS and shuttle Endeavour will watch the Perseid meteor shower from above. What will that be like? In 2001, space shuttle Discovery (STS-105) orbited Earth during a Perseid shower, and the crew recorded this NASA video of a Perseid hitting Earth's atmosphere. Astronauts onboard the ISS have also enjoyed Leonid meteor storms from orbit: full story.
METEOR RADAR: The University of Western Ontario operates a 17-38 MHz meteor orbit radar. Pictured below is their sky map of activity on August 10th: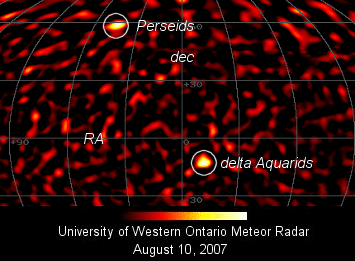 The bright, circled blobs denote meteor radiants--i.e., regions of sky where many meteors are emerging. On August 10th, the radiant of the Southern Delta Aquarid meteor shower (a relatively minor shower caused by an unknown comet) was slightly more active than the Perseids. This will change in the nights ahead as the Perseids intensify. Stay tuned for updates.
Notes: The horizontal and vertical axes of the radar map are standard astronomical coordinates, right ascension (RA) and declination (dec). The many random-looking blobs in the background of the radar map are caused by random or "sporadic" meteors not associated with any specific comet.
---
.2007 Noctilucent Cloud Gallery
[Night-Sky Cameras] ["Noctilucent Cloud"--the song]