| | | |
| --- | --- | --- |
| FLYBY ALERT! Space shuttle Discovery launched on May 31st. Get your flyby alerts from Space Weather PHONE | | |
DOUBLE FLYBY ALERT: This morning at 7:42 EDT, space shuttle Discovery undocked from the International Space Station (ISS), setting the stage for a rare sky watching event. Tonight many people will be able to see the two spaceships gliding among the stars as side-by-side points of light. Check our Satellite Tracker to see if your hometown is favored with a flyby.
VENUS EMERGES: On June 9th, Venus passed behind the sun, an event astronomers call "superior conjunction," and now it is emerging again. A coronagraph onboard the Solar and Heliospheric Observatory (SOHO) has caught first sight of the planet, post-conjunction: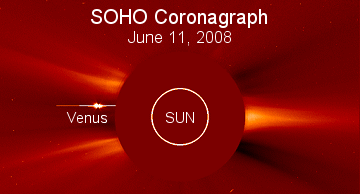 A coronagraph is a device that uses an opaque paddle to block the glare of the sun, producing an artificial eclipse. This allows SOHO to see stars, planets and comets blindingly-close to the edge of the sun. Human eyes have no such blocking mechanism, so we won't be able to observe Venus until late July when the planet has substantially distanced itself from the sun. At that time, Venus will appear in the sunset sky as a bright and silvery evening star. Thank you, SOHO, for the preview!
MARSWORM: What digs and squiggles through the ground on Mars? It would have to be a Marsworm: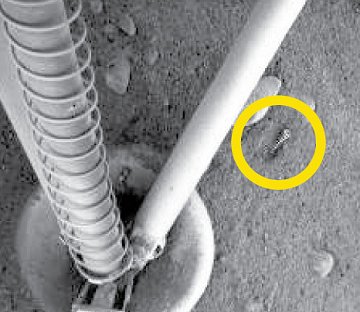 Not really. It may look like a worm, but the segmented object at the foot of NASA's Phoenix Mars Lander is actually a metal spring. It sprung loose and fell to the ground when Phoenix's robotic arm unfurled shortly after landing. The spring is no longer an essential component; it was part of a mechanism holding the arm's biobarrier in place during the voyage from Earth to Mars. Now that the biobarrier has been unpeeled, allowing the sterile arm to move freely, the spring is no longer required and the ground is a fine place for it. Meanwhile, the only thing digging on Mars appears to be Phoenix itself: updates.
3D BONUS: Put on your 3D glasses and take a closer look at the masquerading spring. Pat Vantuyne of Belgium created the anaglyph by combining right- and left-eye images from Phoenix's stereo camera. more anaglyphs: Arctic Vista, Mars Yeti, One small step..., Vines, Scoop Two.
---