| | | |
| --- | --- | --- |
| They came from outer space--and you can have one! Genuine meteorites are now on sale in the Space Weather Store. | | |
CHANCE OF FLARES, EARTH-DIRECTED: NOAA forecasters estimate a 75% chance of M-class solar flares and a 20% chance of X-flares during the next 24 hours. Any eruptions are likely to be geoeffective because the source, sunspot AR1476, is directly facing our planet. X-flare alerts: text, phone.
Yesterday, May 10th, amateur astronomer David Maidment of Sohar, Oman caught the active region in mid-flare during a strong M5-class eruption: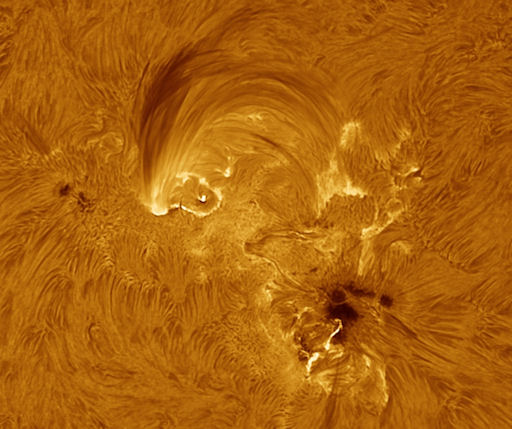 The blast, which almost crossed the threshold into X-territory, did not produce a significant coronal mass ejection (CME). "There seemed to be no CME due to the fact that the plasma was captured and dragged back down to the sun," notes Maidment.
more images: from Sylvain Chapeland of Pays de Gex, France; from David Cortner of Rutherford College, NC; from Jett Aguilar of Quezon City, Philippines; from Rogerio Marcon of Campinas SP Brasil; from Paul Maxson of Surprise, Arizona; from Rusty Venture of Naperville, Illinois; from Richard Wagner of Lincolnshire, Illinois; from Larry Alvarez of Flower Mound, Texas
SPACESHIP IN THE SUN: The sunspot number briefly jumped today when a winged silhouette crossed the solar disk over Hampshire, UK. James West was watching the sun with a solar-filtered telescope when the transit occured: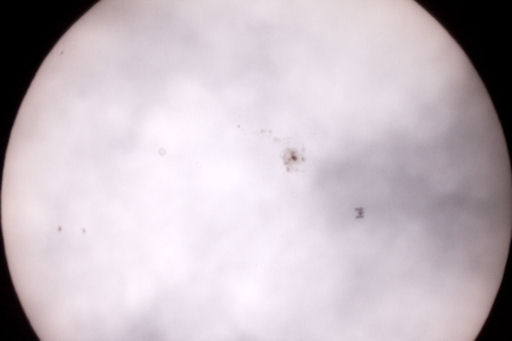 "The International Space Station passed right by giant sunspot AR1476," says West. "The sky was partly cloudy but I caught the transit anyway."
The sunspot-spaceship encounter was no surprise to West. It had been predicted beforehand by CalSky.org. Readers who wish to take this kind of photo should check CalSky for transit predictions and read West's observing tips. A safe solar observing system might also come in handy: Space Weather Store.
SUNSPOT SUNRISE: Sunspot AR1476 is so large, people are noticing it without the aide of a solar telescope. The behemoth appears at sunrise and sunset when the light of the low-hanging sun is occasionally dimmed to human visibility. Stefano De Rosa sends this picture from Turin, Italy: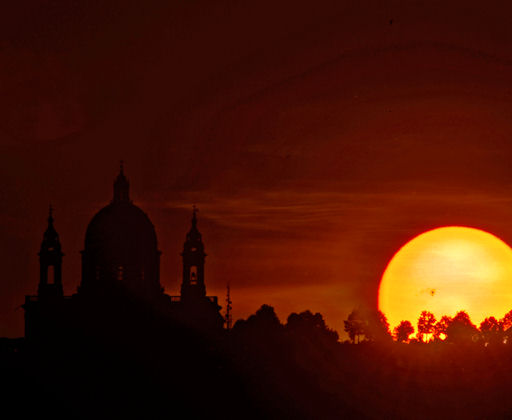 Photo details: Canon Eos 5D Mark II; Focal length:700mm; Exp: 1/8000 sec; F/40; ISO:50
"This morning the sight of the majestic sunspot AR 1476 was great as the sun was rising alongside the Basilica of Superga!" says De Rosa.
The sunspot looks a lot like Hawaii, but it is much bigger than any island on Earth. From end to end the sprawling active region stretches ~160,000 km, or a dozen times wider than our entire planet. If you have a sunspot telescope, take a look. The view is magnificent.
more images: from William Parker of Port Angeles, WA; from Alberto Lao of Binondo, Manila, Philippines; from Tom Murdic of Franklin, Tennessee; from Jett Aguilar of Quezon City, Philippines;
Caution: Even when the sun is dimmed by clouds and haze, looking into the glare can damage your eyes. Looking through unfiltered optics is even worse. If you chose to photograph the low sun with a digital camera, please use the camera's LCD screen for pointing. Do not peer through the optical viewfinder.