What's Up in Space -- 11 Jan 2004
Subscribe to Space Weather News!
Would you like a call when things are happening in the sky? Sign up for
Spaceweather PHONE
.
SOLAR ACTIVITY:
Sunspot 537 has a "beta-gamma-delta class" magnetic field that harbors energy for powerful
X-class
solar flares. NOAA forecasters estimate a 20% chance of such an explosion during the next 24 hours. [
aurora gallery
]

JUPITER & THE MOON: Want to see something pretty? Set your alarm for 5:30 a.m. on Monday morning, Jan. 12th. If you're willing to go outside that early, you can spot Jupiter and the Moon beautifully close together. Both are very bright--you can't miss them! [sky map]
Above: Using an 8 inch telescope and a digital web camera, Sander Klieverik of Holland captured this video of Jupiter's moon Io passing in front of the giant planet. The moving black dot is Io's shadow on Jupiter's cloudtops.
COLD SNAP: The air was filled with ice crystals this weekend in New England and parts of Canada where temperatures dipped far below zero C. It was a good time to look for icy sundogs, pillars and rings of light in the sky. Christopher Atkins of Farmington NY photographed this remarkable sundog on Jan. 9th: (continued below)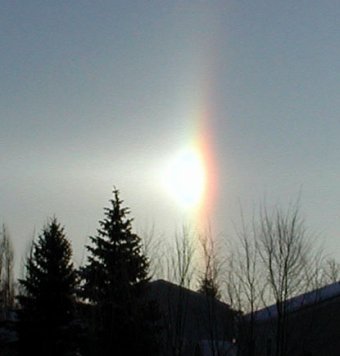 "At one point the 'dog was almost as brilliant as the sun itself," says Atkins. Click to view more of his images: #1, #2, #3. Photo Details: Olympus C-3040Z, F1.8, 1/800.
Atmospheric optics expert Les Cowley notes that "very cold weather can make diamond dust ice crystals close to the ground. These crystals produce bright sparkling halos on sunny days. Also," he adds, "low humidity polar air tends to be clear, allowing halos from high-level thin cirrus to be more easily seen."
More cold weather is coming to New England this week. So if you live there, or any place where it is very cold, pay attention to the sky.
"Diamond dust sometimes produces exceedingly rare halos. Look beyond the bright ones," encourages Cowley. "Are there halos for example twice as far from the sun as the bright sundogs? Are there halos elsewhere in the sky? You might spot the rarity."