Where's Saturn? Is that a UFO--or the ISS? What's the name of that star? Get the answers from mySKY--a fun new astronomy helper from Meade.

AURORA WATCH: Earth is entering a high-speed solar wind stream, and this is causing high-latitude geomagnetic storms. Sky watchers from Scandinavia to Alaska should be alert for auroras tonight.

PERSEID FIREBALLS: The Perseid meteor shower is underway. Don't panic, the peak doesn't occur until August 12th and 13th, but already 10+ shooting stars per hour may be seen during the dark hours before dawn. Two nights ago, artist Mark Seibold was checking the sky from his front yard in Oregon when he witnessed a colorful Perseid fireball: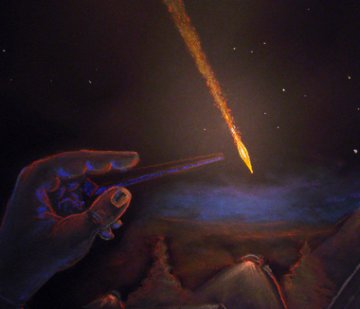 "It appeared as if a child had thrown an orange 4th of July sparkler across the sky for perhaps 30 to 40 degrees. It easily outshown the orange sodium-vapor streetlights in the neighborhood which I rendered below in the foreground," says Seibold.
2007 Perseid Meteor Gallery
[observing tips] [sky map]
THE VIEW FROM ABOVE: Astronauts onboard the ISS and shuttle Endeavour will watch the Perseid meteor shower from above. What will that be like? In 2001, space shuttle Discovery (STS-105) orbited Earth during a Perseid shower, and the crew recorded this NASA video of a Perseid hitting Earth's atmosphere. Astronauts onboard the ISS have also enjoyed Leonid meteor storms from orbit: full story.
METEOR RADAR: The University of Western Ontario operates a 17-38 MHz meteor orbit radar. Pictured below is their sky map of activity on August 8th: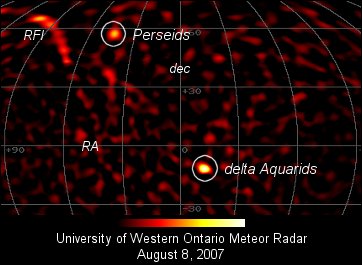 The bright, circled blobs denote meteor radiants--i.e., regions of sky where many meteors are emerging. On August 8th, the radiant of the Southern Delta Aquarid meteor shower (a relatively minor shower caused by an unknown comet) was actually more active than the Perseids. This will change in the days ahead as the Perseids intensify and the delta Aquarids subside. Stay tuned for updates.
Notes: The horizontal and vertical axes of the radar map are standard astronomical coordinates, right ascension (RA) and declination (dec). The long snake-like feature labeled RFI is an artefact of radio frequency interference from a terrestrial radio station near 17 MHz.
---
.2007 Noctilucent Cloud Gallery
[Night-Sky Cameras] ["Noctilucent Cloud"--the song]