BIG ASTEROID FLYBY: Today, June 9th, asteroid 2003 QO104 is passing by Earth only 9 million miles away. Measuring 2 miles in diameter, the massive asteroid is about 1/3rd the size of the K-T impactor that probably wiped out the dinosaurs 65 million years ago. There's no danger of a collision this time, it's just a photo-op.
flyby images: from Alberto Quijano Vodniza of Pasto, Nariño, Colombia
LUNAR OCCULTATION: Over the weekend, an unscheduled lunar occultation occurred over Brisbane, Australia. Amateur astronomer Stephen Mudge was outdoors for an stroll and had the presence of mind to snap this picture: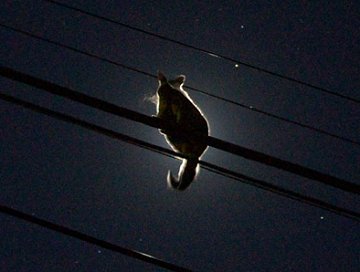 "I came across this rare astronomical event on the evening of June 7th. The nearly-full Moon was neatly covered by a native brushtailed possum wandering along the telephone wires on my street."
Brushtailed possums are nocturnal marsupials common throughout Australia and Tasmania. Their habitat ranges widely from eucalyptus forests to urban high-wires. In New Zealand, where they were introduced in 1840, the hungry creatures are widely regarded as pests--a result of too many kitchen break-ins and midnight snacks in vegetable gardens.
Could a knack for astronomy mitigate these crimes? Mudge thinks so: "This possum seems to be enjoying the view of the rising Moon, while its tail nicely matches that of Scorpius in the background!"
more moon shots: from Martin Stojanovski of Rudine, Macedonia; from John Stetson of Sebago Lake, Maine; from Stephen W. Ramsden of Atlanta, Georgia; from Elias Chasiotis of Sounio, Greece;
STRANGE LIGHTNING: High above Earth, in the realm of meteors and noctilucent clouds, a strange and beautiful form of lightning dances at the edge of space. Researchers call the bolts "sprites"; they are red, fleeting, and tend to come in bunches. Atmospheric scientist Oscar van der Velde of Sant Vicenç de Castellet, Spain, photographed this specimen on June 5th: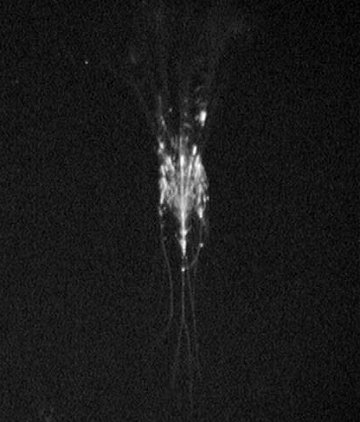 "With my new zoom lens I can now magnify the sky above thunderstorms to get very detailed images of sprites," says van der Velde. "This amazing 'carrot sprite' occurred near the coast of southern France about 250 km away from me."
"Sprites are a true space weather phenomenon," he adds. "They develop in mid-air around 80 km altitude, growing in both directions, first down, then up. This happens when a fierce lightning bolt draws lots of charge from a cloud near Earth's surface. Electric fields [shoot] to the top of Earth's atmosphere--and the result is a sprite. The entire process takes about 20 milliseconds."
Although sprites have been seen, off and on, for at least a century, most scientists did not believe they existed until after 1989 when sprites were photographed by cameras onboard the space shuttle. Now "sprite chasers" routinely photograph sprites from their own homes. "I set up a Watec 902H2 Ultimate security camera on my balcony and used UFOCapture software to catch the sprite," says van der Velde. Give it a try!
diagram: How to Look for Sprites (used with permission of sky-fire.tv)
more images: from Oscar van der Velde of Sant Vicenç de Castellet, Spain; from Damir Segon of Pula, Croatia; from Mike Burdette of Bolivar, Missouri;
---
2009 Noctilucent Photo Gallery
[previous years: 2008, 2007, 2006, 2005, 2004, 2003]
---