What's the name of that star? Where's Saturn? Get the answers from mySKY--a fun new astronomy helper from Meade.
LAST SHOTS: If you have a solar telescope, point it at the western edge of the sun today. Big sunspot 953 is over the horizon and out of sight, but magnetic filaments jutting above the spot are still in view. "Wonderful activity all the way until the end," says Robert Morlan of La Porte, Indiana, who took this picture on May 8th. "I can't wait for the next spot."
DOUBLE SUN HALO: "Yesterday while shooting an outdoor band practice, I looked up and noticed a double ring around the sun," says Darrell Oake of Dartmouth, Nova Scotia. He turned his camera to the sky and snapped this shot: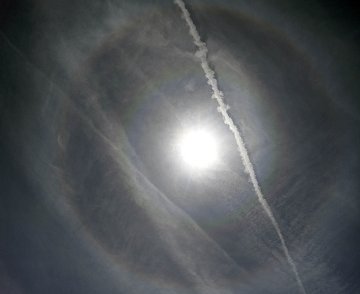 Photo details: Olympus Evolt E-300, ISO 100, 1/2500 sec
"Sunlight was being processed in three different ways in this sighting," says atmospheric optics expert Les Cowley. "The sun was casting a shadow of the contrail down onto a layer of cirrus cloud. Large ice crystals in the cirrus cloud were refracting or bending light to make the outer 22° halo. And, finally, in very tiny ice crystals or water drops, light rays were interfering and diffracting to make the inner corona ring."
SHOCK DIAMONDS: Recently, NASA engineers tested a revolutionary methane-powered rocket engine. A blue flame blasted across the Mojave desert, heralding a new kind of spacecraft that one day might roam the outer solar system, gathering fuel from planets and moons it visits: full story.
Many readers who've seen the movie want to know, what are those white shapes in the exhaust?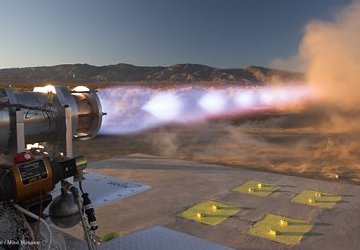 Answer: Shock diamonds. Also known as Mach disks, they are interference patterns formed by shock waves propagating down the engine's exhaust plume. Shock diamonds are formed when exhaust exits a nozzle supersonically and at a pressure different than that of the ambient atmosphere. The most famous photo of shock diamonds shows Chuck Yeager's X-1 rocket plane just moments after he first reached Mach 1 on Oct. 14, 1947.