Where's Saturn? Is that a UFO--or the ISS? What's the name of that star? Get the answers from mySKY--a fun new astronomy helper from Meade.

MARS UPDATE: A global dust storm is still blowing around Mars, but the air over Spirit and Opportunity has cleared slightly, allowing crucial sunlight to reach the rovers' solar panels. Opportunity's batteries are now fully charged, and Spirit's batteries are almost so. Project manager John Callas of JPL cautions that "conditions remain dangerous for both rovers," but the situation is improving: more.

PERSEID FIREFLY: The Perseid meteor shower is underway. Don't panic, the peak doesn't occur until August 12th and 13th, but already five or six shooting stars per hour may be seen during the dark hours before dawn.

"The Perseids are definitely intensifying," says Brian Emfinger of Ozark, Arkansas, who caught this meteor in flight early Tuesday morning: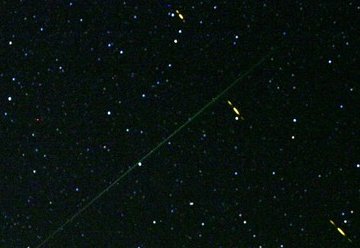 The Perseid isn't the only thing flying through the frame. "There's also a lightning bug blinking through," he points out. The bug and the meteor crossed during a 25-second exposure at ISO 800. Emfinger used a Canon Digital Rebel XT.
More Perseids are coming. Get the full story from Science@NASA.
PILEUS CLOUD: "I've never seen anything like this before," reports Shantara Ford of Santa Fe, New Mexico. "I was taking photos of the sun streaming through some thunder clouds yesterday when I saw what looked like a stack of circular auroras sitting on top of the cloud."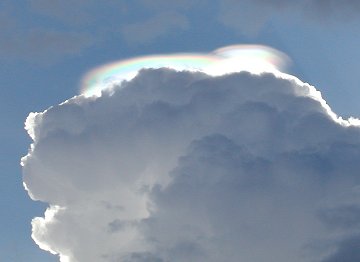 Auroras in New Mexico? It has happened before, but not this week.
Atmospheric optics expert Les Cowley explains what Shantara saw: "This is an iridescent pileus cloud. On sunny afternoons, cumulus clouds boil upwards, pushing layers of moist air above them even higher where they cool and condense to form cloud caps or 'pileus' (Latin for cap). Pileus clouds formed very quickly have their water droplets all the same size--the perfect condition for iridescent colors."
Readers, when cumulus clouds rapidly surge into your afternoon sky, look for the caps. "It was truly an amazing experience," says Shantara.
more images: from Dr. Michael T. Goodling of Kenya, East Africa
---
.2007 Noctilucent Cloud Gallery
[Night-Sky Cameras] ["Noctilucent Cloud"--the song]