Would you like to hear about solar flares--while they're flaring? Get instant alerts from SpaceWeather PHONE.

COUNTDOWN TO LAUNCH: Space shuttle Atlantis is scheduled to launch from Florida this evening at 7:38 pm EDT. The shuttle's crew will visit the International Space Station for 8 days to deliver supplies and install new solar arrays, among other things. Photographer Mike Theiss is on the scene and we will display his launch photos as soon as Atlantis is in the air. Stay tuned!

SUNGRAZING COMET: This morning a comet plunged toward the sun and, with the Solar and Heliospheric Observatory (SOHO) looking on, it disintegrated. Click on the image to view a 2 MB movie: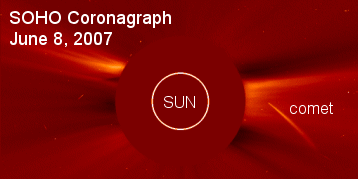 The comet was probably a member of the Kreutz sungrazer family. Named after a 19th century German astronomer who studied them in detail, Kreutz sungrazers are fragments from the breakup of a giant comet at least 2000 years ago. Several of these fragments pass by the sun every day. Most are too small to see, but occasionally a big one catches our attention.
NOCTILUCENT CLOUDS: NLC season has truly begun. On June 6th and 7th, bright noctilucent clouds (NLCs) appeared over Europe; one night later they materialized over Canada. "I went outside on June 8th to look for auroras, but I found these noctilucent clouds instead," reports Yuichi Takasaka of New Aiyansh, British Columbia: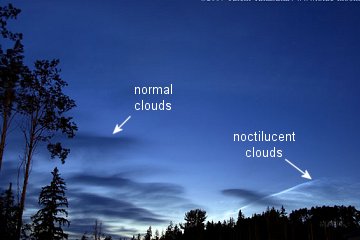 Note the difference in Takasaka's photo between normal clouds and noctilucent clouds: Normal clouds are dark while NLCs glow brightly against the twilight sky. This is because normal clouds hang low in the troposphere, about 10 km high; after sunset they are no longer lit by the sun. NLCs, on the other hand, float at the very top of Earth's atmosphere, about 80 km high. At that altitude, they remain sunlit long after normal clouds go dark.
Observing tips and photo gallery
[night-sky cameras] [NLCs--the song!]
NOCTILUCENT CLOUDS--NOT! Not all night-shining clouds are NLCs. Last night in southern California, the UCLA towercam atop Mt. Wilson recorded a cloud glowing in the twilight. In this case, the cloud was exhaust from a Delta 2 rocket launched from nearby Vandenberg Air Force Base. (The rocket propelled Italy's COSMO-1 radar imaging satellite into a polar orbit.) Ice crystals in the rocket's exhaust caught the rays of the setting sun, producing a display visually similar to NLCs. More images: from John Boyd of Santa Barbara, California.
THANKS: to Scott Sparrow of Pasadena, CA, for drawing the UCLA images to our attention.