| | | |
| --- | --- | --- |
| Lights Over Lapland is excited to announce that our Customizable Aurora Adventures are available for immediate booking! Reserve your adventure of a lifetime in Abisko National Park, Sweden today! | | |
GEOMAGNETIC STORM UPDATE: Minor G1-class geomagnetic storms are underway on Dec. 5th as a fast-moving stream of solar wind blows around our planet. So far, predictions of stronger G2-class storms have not been fulfilled. Aurora sightings tonight will probably be restricted to regions around the Arctic Circle. Free: Aurora Alerts.
THE FIRST BREATH OF SOLAR WIND: Picture this: Bright moonlight floods the snowy landscape. The air is so cold (-23 C) it frosts the back of your throat as you gasp at green ribbons curling overhead. Where are you? "In the Middle of Nowhere--a place called 'Salla' in the Finnish Lapland," answers B.Art Braafhart, who took this picture last night under those precise conditions: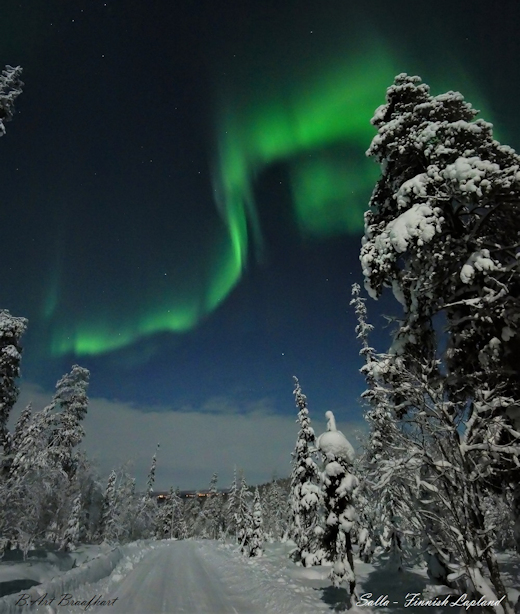 "There were auroras all over the place," he says, "A supermoon illuminated the wintry landscape around Salla and several times we even saw a moon halo. It was amazing!"
The display was caused by the first breath of solar wind touching Earth's magnetic field as an incoming stream of gas from the sun advanced on our planet. Now picture what will happen when the solar wind arrives in full on Dec. 5th. "I am looking forward to a good show," says Braafhart.
STRANGE ARCTIC RAINBOW: Rainbows usually require liquid water.  Droplets falling out of the sky intercept beams of sunlight, reflecting them back in a colorful spray of red, green, and blue. Yesterday, Valtteri Immonen saw such a rainbow over Muonio, Finland, but something was missing: the raindrops. "It was -6 degrees C, no rain and no snowfall," he says. "Yet there was a huge rainbow across the sky."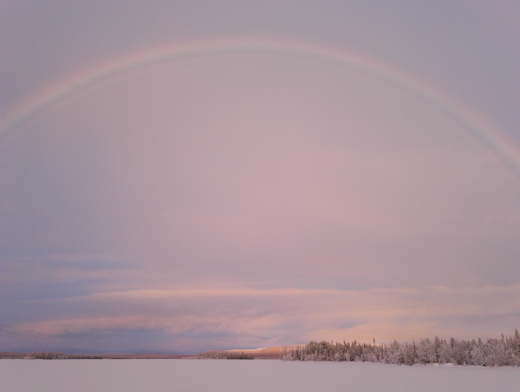 "I have never seen a rainbow during the winter and I didn't even know that it is possible for them to form when the temperature is below 0 degrees Celsius," he marvels.

Atmospheric optics expert Les Cowley says that raindrops must have been present: "The rainbow's appearance, narrow with a supernumerary, says that it was produced with reasonable size water drops, perhaps about 0.5 mm in diameter. I surmise that the there was high level precipitation that did not necessarily reach the ground. The drops could also have been supercooled below the normal freezing point of water," he speculates.

Supercooled raindrops can form when droplets of liquid water fall through layers of subfreezing air. Droplets containing specks of dust or even microbes readily freeze as ice crystals form around the impurities. But when rain droplets are especially pure, they can remain in a liquid state even when the temperature drops below freezing.

Last winter, supercooled rainbows were sighted in the Arctic as strange weather gripped the poles. Immonen's photo suggests that more of these rare rainbows may be in the offing. Stay tuned.
Realtime Space Weather Photo Gallery

CHRISTMAS ORNAMENTS FROM SPACE: On Nov. 2, 2017, the students of Earth to Sky Calculus launched a space weather balloon to the stratosphere. These kids do science, and the payload of their balloon carried an array of cosmic ray sensors to measure radiation coming from deep space. A basket of Christmas ornaments went along for the ride. Watch the video to see what happened:
The ornaments were created by student artist Dana Wilcher, a longtime member of Earth to Sky Calculus. Each year she creates a limited batch of "space ornaments" to raise money for our balloon program.
You can have one for $59.95. Each ornament comes with a unique gift card showing the work of art floating at the top of Earth's atmosphere. The interior of the card tells the story of the flight and confirms that the ornament has been to the edge of space and back again. It *also* comes with a hanging mini-photo of the ornament in the stratosphere. Hang it on your tree alonside the actual ornament to impress holiday visitors!
Far Out Gifts: Earth to Sky Store
All proceeds support hands-on STEM education

---
Every night, a network of
NASA all-sky cameras
scans the skies above the United States for meteoritic fireballs. Automated software maintained by NASA's Meteoroid Environment Office calculates their orbits, velocity, penetration depth in Earth's atmosphere and many other characteristics. Daily results are presented here on Spaceweather.com.
On Dec. 5, 2017, the network reported 22 fireballs.
(15 sporadics, 7 sigma Hydrids)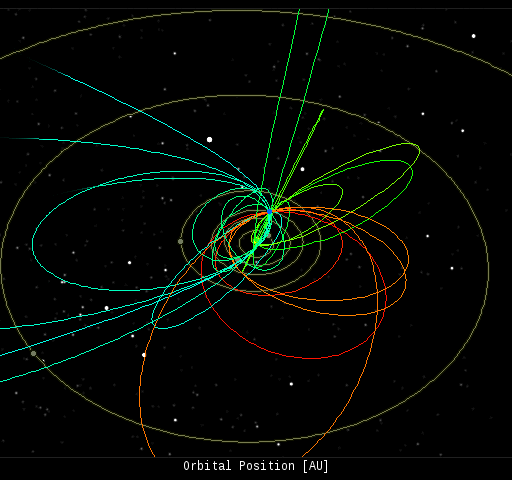 In this diagram of the inner solar system, all of the fireball orbits intersect at a single point--Earth. The orbits are color-coded by velocity, from slow (red) to fast (blue). [Larger image] [movies]
Potentially Hazardous Asteroids (
PHAs
) are space rocks larger than approximately 100m that can come closer to Earth than 0.05 AU. None of the known PHAs is on a collision course with our planet, although astronomers are finding
new ones
all the time.
On December 5, 2017 there were
1869
potentially hazardous asteroids.

Recent & Upcoming Earth-asteroid encounters:
Asteroid

Date(UT)

Miss Distance

Velocity (km/s)

Diameter (m)

2017 WF16

2017-Nov-29

3.7 LD

4.2

6

2017 WN15

2017-Nov-29

7.4 LD

19.4

38

2017 WH28

2017-Nov-30

19.7 LD

14.7

45

2017 WH2

2017-Nov-30

6.4 LD

16.8

48

2008 WM61

2017-Dec-02

3.7 LD

4.7

16

2017 WH16

2017-Dec-03

17.4 LD

15.2

26

2017 WZ27

2017-Dec-03

13.6 LD

4.2

11

2017 WS13

2017-Dec-05

9.5 LD

11.3

42

2017 WF28

2017-Dec-06

17.6 LD

7.6

21

2017 WV12

2017-Dec-09

3.5 LD

10.6

25

2017 WE13

2017-Dec-12

16.4 LD

5.4

26

2017 VS14

2017-Dec-12

15.9 LD

2.8

15

2017 WJ28

2017-Dec-13

12.9 LD

6.1

21

2015 XX169

2017-Dec-14

9.7 LD

6.3

11

2006 XY

2017-Dec-14

3.4 LD

4.9

56

2017 VT14

2017-Dec-17

3.8 LD

10.4

105

2011 YD29

2017-Dec-19

17.6 LD

7.7

20

2017 WX12

2017-Dec-21

10.1 LD

11.4

126

2017 TS3

2017-Dec-22

18.1 LD

10.2

136

418849

2017-Dec-22

15.3 LD

17.4

257

2015 YQ1

2017-Dec-22

17.3 LD

11.1

9

2017 WZ14

2017-Dec-24

7.6 LD

4.9

32

2017 QL33

2017-Dec-30

13.3 LD

8.2

191

2015 RT1

2018-Jan-02

19.7 LD

9

30

2004 FH

2018-Jan-10

20 LD

8.5

26

306383

2018-Jan-22

14.4 LD

17.4

178

2002 CB19

2018-Feb-02

10.5 LD

15.6

36