| | | |
| --- | --- | --- |
| ANDROID FLYBYS: Our field-tested satellite tracker is now available for Android phones. Features: Global predictions and flyby alarms! Learn more. | | |
PLUTO AND THE BLACK CLOUD: This week, Pluto is transiting Barnard 92, an inky black cloud of dust in the constellation Sagittarius. "Just after midnight on the 4th of July, I was able to photograph the beginning of the transit using a 10-inch telescope," reports Alfredo Garcia Jr. "Pluto was faint but very obvious against the dark background: image." Experienced astrophotographers are encouraged to follow the dwarf planet as it makes its lonely crossing--and submit your images here.
SUN HALO: Temperatures in Kolkata, India, today are above 90 degrees F. So when a gathering thundercloud drifted in front of the sun, producing a patch of cool shade on the ground, photographer Rana Khan looked up gratefully. Then he scrambled for a camera!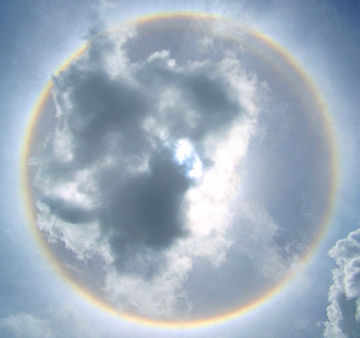 "This stunning halo appeared when the sun was nearly overhead and lasted for almost 30 minutes," says Khan. "It was very bright."
The halo tells us that, despite the heat, the air many kilometers above Kolkata is peppered with ice crystals. Sunlight shining through the tiny prism-like crystals produced a rainbow-colored ring. Actually there are two rings: a 22o halo and a circumscribed halo overlapping almost perfectly to create a very cool spectacle on a very hot day.
Earth's atmosphere always contains ice crystals. Even when it is sweltering at ground level, the air 10 km high is freezing, and only a little moisture is required to produce a swarm of crystals ready to play beautiful tricks with sunlight. So no matter where you live, find a patch of shade and keep looking up.
more images: from Phillip Bonn of Shore Acres, Oregon; from Dirk Peeters of Lichtaart, Belgium; from Santi Sulistiani of Bandung, West Java, Indonesia
WHIRLPOOL SUNSPOT: "Sunspot 1084 reminds me of the Whirlpool Galaxy (M51)," says astrophotographer Mike Borman. The resemblance is certainly uncanny in this photo he took on July 3rd from his backyard observatory in Evansville, Indiana: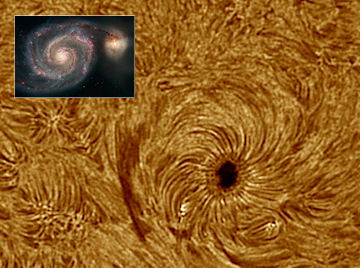 "I used a Coronado SolarMax90 to image the sunspot," says Borman. "The inset of M51 comes from Hubble."
The appearance of the sunspot is shaped by its spiraling magnetic field, which organizes the plasma around it like a whirpool. The configuration seems to be remarkably stable because the sunspot has not produced the slightest hint of a solar flare in many days. Indeed, the whirlpool does not seem to move at all. It is like a giant tornado of hot plasma and magnetism frozen in place.
The sun's rotation is carrying this photogenic spot toward the western limb where it will disappear later this week. Readers with solar telescopes, catch it before it goes!
more images: from Pete Lawrence of Selsey, West Sussex, UK; from Germano Tosi of Moncenisio, Italy
---
Lunar Eclipse Photo Gallery
[Science@NASA: Big Lunar Eclipse] [astronomy alerts]
---
May 2010 Aurora Gallery
[previous Mays: 2008, 2005, 2004, 2003, 2002] [aurora alerts]