| | | |
| --- | --- | --- |
| Are we alone? Your iPhone has the answer. Download the all-new Drake Equation app to calculate the population of the Milky Way. | | |
MAGNETIC STORM WARNING: A sharp gust of solar wind hit Earth's magnetic field at approximately 20:30 UT on June 4th. High latitude sky watchers in both hemispheres should be alert for auroras. Aurora alerts: text, voice.
NOCTILUCENT CLOUDS OVER EUROPE: The 2011 noctilucent cloud (NLC) season has begun. For the past few nights, observers across northern Europe have spotted velvety, electric-blue tendrils rippling across the sunset sky. John Houghton sends this picture from Newtown Linford, Leicester, UK: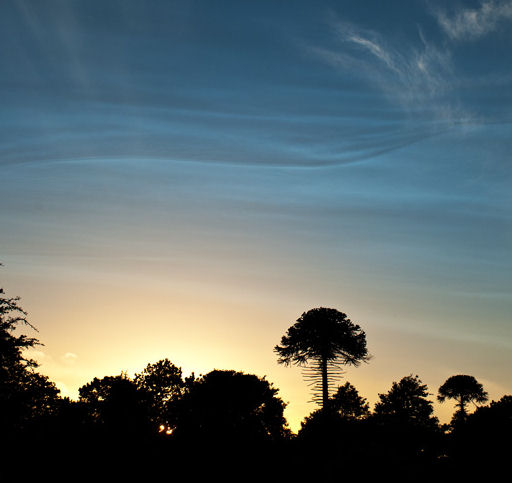 "This was the best display of noctilucent clouds I've seen to date," he says. "It was visible even before sunset."
NLCs are a summertime phenomenon. In the upper atmosphere, 80+ km high at the edge of space itself, tiny ice crystals nucleate around microscopic meteoroids and other aerosols; when the crystals catch the rays of the setting sun, they glow electric blue. Ironically, these highest and coldest of clouds form during the warmest months on the ground.
Noctilucent clouds first appeared in the 19th century after the eruption of super-volcano Krakatoa. At the time, people thought the clouds were caused by the eruption, but the clouds persisted long after Krakatoa's ash settled. In those early days, NLCs were a polar phenomenon, mainly seen in far-northern places such as Scandinavia or Alaska. In recent years they have intensified and spread with sightings as far south as Utah and Colorado. A NASA spacecraft named AIM is in orbit to investigate.
Readers, especially you at high latitudes, be alert for NLCs in the evenings ahead. Observing tips may be found in our 2009 Noctilucent Cloud Gallery.
more images: from Martin McKenna of Maghera, Co. Derry, N. Ireland; from Jesper Gronne of Silkeborg Denmark; from Paul Martin of Pigeon Top, Omagh, Northern Ireland; from Martin Stirland of Winterton On Sea, Norfolk, England; from John C McConnell of Maghaberry Northern Ireland.
SPRING CRESCENT: This evening, if you find yourself outside scanning the sunset sky for noctilucent clouds, be alert for the crescent Moon as well. You might see something like this: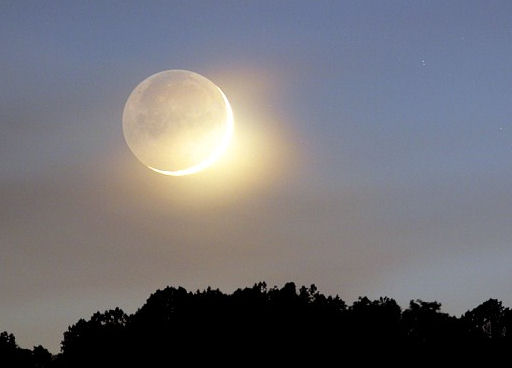 Gary A. Becker of Coopersburg, Pennsylvania, took the picture on June 3rd. "Every evening is different," says Becker. "I have photographed young moons perhaps 100 times and no two images are duplicates. On June 3rd, a crystal clear day gave way to high clouds, which I thought were going to ruin the show. Happily, I was proven wrong."
more images: from Piotr Potepa of Chelmza, Poland; from KamilaM of Puławy, Poland; from Andrzej of Gdańsk, Poland; from Zsolt Szabolcs Szabó of Szolnok, Hungary; from Ignacio A. Rodriguez of Monterrey, Mexico; from Kevin Jung of Lowell Township, Michigan; from Fabiano Belisário Diniz of Curitiba, Brazil; from David Dickinson of Hudson, Florida;
---
Midnight Solar Eclipse Gallery
[NASA: A Rare Eclipse of the Midnight Sun]
---
April 2011 Aurora Gallery
[previous Aprils: 2010, 2009, 2008, 2007, 2006, 2005, 2004, 2003, 2002]