| | | |
| --- | --- | --- |
| ANDROID FLYBYS: Our field-tested satellite tracker is now available for Android phones. Features: Global predictions and flyby alarms! Learn more. | | |
WEEKEND SKY SHOW: Jupiter and the Moon are gathering in Pisces for a beautiful weekend sky show. Look south at sunrise to see the two heavenly beacons less than 10o apart. They are so bright, you can see them even after the sky turns twilight blue--indeed, that is the most beautiful time to look. Morning sky maps: July 3, July 4.
DOUBLE BLAST: The sun is very active today. A pair of magnetic filaments--one on either side of the solar disk--erupted on July 3rd, hurliing a pair of coronal mass ejections (CMEs) into space. Click on the image to set the clouds in motion: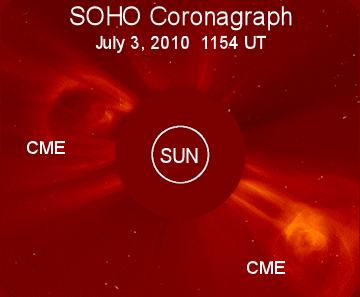 The movie actually shows four eruptions. The first pair may have been precursors of the second. Stay tuned for related high-res images from the Solar Dynamics Observatory and more information as we unravel these explosive events.
SPACE STATION COMPANION: The International Space Station has an unexpected companion this weekend. On Friday, July 2nd, Russia's Progress 38 supply ship failed to dock with the ISS when the ISS-Progress telemetry link was temporarily scrambled by interference (details). Now Progress 38 is circling Earth in tandem with the space station.
"After getting an alert about the aborted docking, I set up my camera and waited for a scheduled pass of the ISS over my home in Northern Ireland," says amateur astronomer John C McConnell. "Sure enough, up popped the ISS from behind the trees and about ten degrees in front was the Progress." He took this picture using a Canon 400D: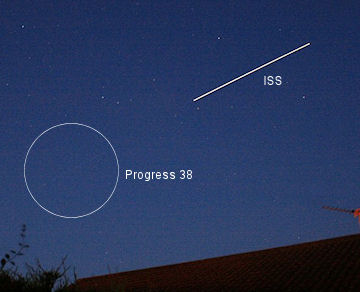 Click here for a better view of the faintly streaking Progress 38
"The evening sky was still bright, and the Progress 38 was faint, but I could see it," says John C McConnell. "It resembled an ordinary satellite though it was on the same orbit as the ISS."
Canadian satellite watcher Kevin Fetter also caught the Progress 38. He video-recorded it flying past the bright (2nd magnitude) star Schedar in Cassiopeia: watch it!
(UPDATE) Russian ground teams have figured out the cause of the docking problems. A TV transmission from the Zvezda Service Module interfered with radio signals used by the automated docking system. This triggered a "cancel dynamic operations" command that instructed the Progress 38 to fly past the station on its final approach for docking. The interference has been eliminated and a second docking attempt will be made on Sunday, July 4, at 12:10 p.m. EDT.
Until then, check the Simple Satellite Tracker for ISS flyby predictions--and be alert for a companion.
more images: from Mariusz Rudziński of Mirostowice Dolne, Poland; from Mateusz Szczupak of Lubin, Poland
---
Lunar Eclipse Photo Gallery
[Science@NASA: Big Lunar Eclipse] [astronomy alerts]
---
May 2010 Aurora Gallery
[previous Mays: 2008, 2005, 2004, 2003, 2002] [aurora alerts]