| | | |
| --- | --- | --- |
| Lights Over Lapland has a brand-new website full of exciting adventures in Abisko National Park, Sweden! Take a look at our aurora activities and book your once-in-a-lifetime trip with us today! | | |
SOLAR WIND SPARKS ARCTIC AURORAS: A stream of high-speed solar wind is buffeting Earth's magnetic field, sparking bright auroras around the Arctic Circle. The gaseous material is flowing from a wide hole in the sun's atmosphere--so wide that Earth could remain inside the stream for days to come. NOAA forecasters estimate 50% chance of polar geomagnetic unrest on Aug.21st. Free: Aurora Alerts.
STEVE IS NOT AN AURORA: A new type of aurora nicknamed "STEVE" may not be an aurora at all, according to a new paper published August 20th in the Geophysical Research Letters. A group of researchers combined satellite data with ground-based imagery of STEVE during a geomagnetic storm to investigate how STEVE is formed. "Our main conclusion is that STEVE is not an aurora," said Bea Gallardo-Lacourt, a space physicist at the University of Calgary in Canada and lead author of the new study.

STEVE, photographed by Greg Ash of Ely, Minnesota, on May 5, 2018 [more]
STEVE is a purple ribbon of light that amateur astronomers in Canada have been photographing for decades, belatedly catching the attention of the scientific community in 2016. It doesn't look exactly like an aurora, but it often appears alongside auroras during geomagnetic storms. Is it an aurora -- or not? That's what Gallardo-Lacourt's team wanted to find out.
Auroras appear when energetic particles from space rain down on Earth's atmosphere during geomagnetic storms. If STEVE is an aurora, they reasoned, it should form in much the same way. On March 28, 2008, STEVE appeared over eastern Canada just as NOAA's Polar Orbiting Environmental Satellite 17 (POES-17) passed overhead. The satellite, which can measure the rain of charged particles that causes auroras, went directly above the purple ribbon. Gallardo-Lacourt's team looked carefully at the old data and found ... no rain at all.
"Our results verify that this STEVE event is clearly distinct from the aurora borealis since it is characterized by the absence of particle precipitation," say the researchers. "Interestingly, its skyglow could be generated by a new and fundamentally different mechanism in Earth's ionosphere."
Another study has shown that STEVE appears most often in spring and fall. With the next equinox only a month away, new opportunities to study STEVE are just around the corner. Stay tuned and, meanwhile, read the original research here.
LASER-ETCHED MOON CUBE: On August 16, 2018, the students of Earth to Sky Calculus launched a cosmic ray balloon to the stratosphere. This unique laser-etched Moon cube went along for the ride, ascending to an altitude of 101,140 feet: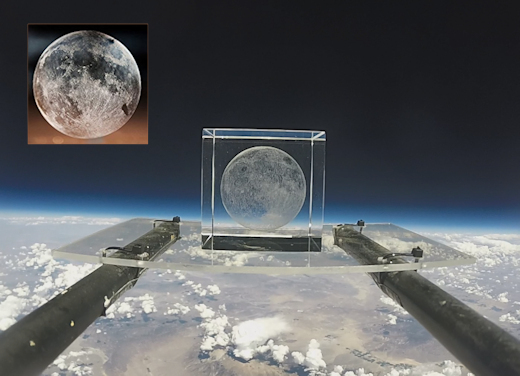 You can have it for $149.95. The students are selling these cubes as a fund-raiser for their cosmic ray ballooning program. It's an authentic representation of the Moon, with all of the craters, mountains and lava plains accurately portrayed.
Each Moon-cube comes with a unique gift card showing the item floating at the top of Earth's atmosphere. The interior of the card tells the story of the flight and confirms that this gift has been to the edge of space and back again.
Far Out Gifts: Earth to Sky Store
All sales support hands-on STEM education
GIANT 'ELVE' OVER RUSSIA: On Aug. 16th, high above a thunderstorm in central Russia, an enormous ring of light appeared in the night sky. Using a low-light video camera in the town of Irbit, amateur astronomer Ilya Jankowsky photographed the 300 km-wide donut hovering near the edge of space: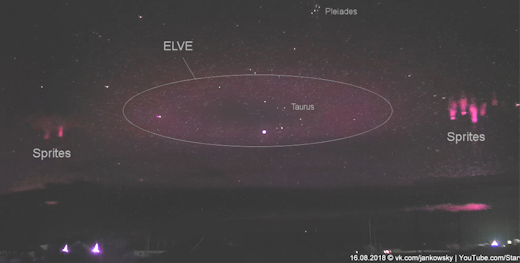 "It appeared for just a split second, surrounding the horns of Taurus," says Jankowsky.
This is an example of an ELVE (Emissions of Light and Very Low Frequency Perturbations due to Electromagnetic Pulse Sources). First seen by cameras on the space shuttle in 1990, ELVEs appear when a pulse of electromagnetic radiation from cloud-to-ground lightning propagates up toward space and hits the base of Earth's ionosphere. A faint ring of deep-red light marks the broad 'spot' where the EMP hits.
"For this to happen, the lightning needs to be very strong--typically 150-350 kilo-Ampères," says Oscar van der Velde, a member of the Lightning Research Group at the Universitat Politècnica de Catalunya. "For comparison, normal cloud-to-ground flashes only reach 10-30 kA."
ELVEs often appear alongside red sprites, which are also sparked by strong lightning. Indeed, Jankowsky's camera caught at least two clusters of sprites dancing nearby.

ELVEs are elusive--and that's an understatement. Blinking in and out of existence in only a millisecond, they are completely invisible to the human eye. For comparison, red sprites tend to last for hundredths of a second and regular lightning can scintillate for a second or more. Their brevity explains why ELVEs are a more recent discovery than other lightning-related phenomenon. Learn more about the history and physics of ELVEs here and here.
---
Realtime Space Weather Photo Gallery
---
Realtime Noctilucent Cloud Photo Gallery
---
Every night, a network of
NASA all-sky cameras
scans the skies above the United States for meteoritic fireballs. Automated software maintained by NASA's Meteoroid Environment Office calculates their orbits, velocity, penetration depth in Earth's atmosphere and many other characteristics. Daily results are presented here on Spaceweather.com.
On Aug. 20, 2018, the network reported 10 fireballs.
(10 sporadics)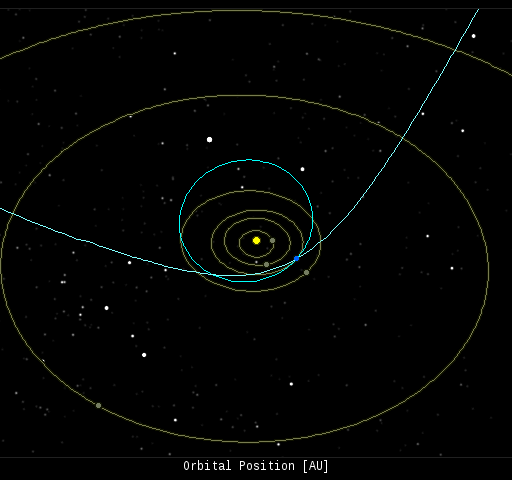 In this diagram of the inner solar system, all of the fireball orbits intersect at a single point--Earth. The orbits are color-coded by velocity, from slow (red) to fast (blue). [Larger image] [movies]
Potentially Hazardous Asteroids (
PHAs
) are space rocks larger than approximately 100m that can come closer to Earth than 0.05 AU. None of the known PHAs is on a collision course with our planet, although astronomers are finding
new ones
all the time.
On August 21, 2018 there were
1912
potentially hazardous asteroids.

Recent & Upcoming Earth-asteroid encounters:
Asteroid

Date(UT)

Miss Distance

Velocity (km/s)

Diameter (m)

2018 PN20

2018-Aug-15

15.3 LD

11.4

32

2018 PY23

2018-Aug-15

1.3 LD

25.1

9

2018 PM20

2018-Aug-16

8 LD

9

19

2018 PT23

2018-Aug-16

5.6 LD

15.8

46

2018 PL10

2018-Aug-18

19.4 LD

12.5

134

2018 PO22

2018-Aug-18

8.9 LD

11.1

86

2018 PK20

2018-Aug-18

7.9 LD

8.3

24

2018 QE

2018-Aug-20

2.8 LD

4.5

10

2018 PK9

2018-Aug-22

17 LD

9

33

2018 PW7

2018-Aug-23

11.3 LD

10.6

47

2018 PU23

2018-Aug-23

7.8 LD

1.5

8

2018 PR9

2018-Aug-24

18.1 LD

14

46

2018 LQ2

2018-Aug-27

9.4 LD

1.5

39

2016 GK135

2018-Aug-28

16.8 LD

2.8

9

2016 NF23

2018-Aug-29

13.2 LD

9

93

1998 SD9

2018-Aug-29

4.2 LD

10.7

51

2018 DE1

2018-Aug-30

15.2 LD

6.5

28

2001 RQ17

2018-Sep-02

19.3 LD

8.3

107

2015 FP118

2018-Sep-03

12.3 LD

9.8

490

2018 QA

2018-Sep-03

17.5 LD

20.4

73

2017 SL16

2018-Sep-20

8.5 LD

6.4

25

2018 EB

2018-Oct-07

15.5 LD

15.1

155

2014 US7

2018-Oct-17

3.2 LD

8.7

19

2013 UG1

2018-Oct-18

10.4 LD

13.4

123

2016 GC221

2018-Oct-18

8.7 LD

14.4

39

Notes: LD means "Lunar Distance." 1 LD = 384,401 km, the distance between Earth and the Moon. 1 LD also equals 0.00256 AU. MAG is the visual magnitude of the asteroid on the date of closest approach.

| | |
| --- | --- |
| | Cosmic Rays in the Atmosphere |

SOMETHING NEW! We have developed a new predictive model of aviation radiation. It's called E-RAD--short for Empirical RADiation model. We are constantly flying radiation sensors onboard airplanes over the US and and around the world, so far collecting more than 18,000 gps-tagged radiation measurements. Using this unique dataset, we can predict the dosage on any flight over the USA with an error no worse than 15%.

E-RAD lets us do something new: Every day we monitor approximately 1400 flights criss-crossing the 10 busiest routes in the continental USA. Typically, this includes more than 80,000 passengers per day. E-RAD calculates the radiation exposure for every single flight.

The Hot Flights Table is a daily summary of these calculations. It shows the 5 charter flights with the highest dose rates; the 5 commercial flights with the highest dose rates; 5 commercial flights with near-average dose rates; and the 5 commercial flights with the lowest dose rates. Passengers typically experience dose rates that are 20 to 70 times higher than natural radiation at sea level.

To measure radiation on airplanes, we use the same sensors we fly to the stratosphere onboard Earth to Sky Calculus cosmic ray balloons: neutron bubble chambers and X-ray/gamma-ray Geiger tubes sensitive to energies between 10 keV and 20 MeV. These energies span the range of medical X-ray machines and airport security scanners.

Column definitions: (1) The flight number; (2) The maximum dose rate during the flight, expressed in units of natural radiation at sea level; (3) The maximum altitude of the plane in feet above sea level; (4) Departure city; (5) Arrival city; (6) Duration of the flight.

SPACE WEATHER BALLOON DATA: Approximately once a week, Spaceweather.com and the students of Earth to Sky Calculus fly space weather balloons to the stratosphere over California. These balloons are equipped with radiation sensors that detect cosmic rays, a surprisingly "down to Earth" form of space weather. Cosmic rays can seed clouds, trigger lightning, and penetrate commercial airplanes. Furthermore, there are studies ( #1, #2, #3, #4) linking cosmic rays with cardiac arrhythmias and sudden cardiac death in the general population. Our latest measurements show that cosmic rays are intensifying, with an increase of more than 18% since 2015:

The data points in the graph above correspond to the peak of the Reneger-Pfotzer maximum, which lies about 67,000 feet above central California. When cosmic rays crash into Earth's atmosphere, they produce a spray of secondary particles that is most intense at the entrance to the stratosphere. Physicists Eric Reneger and Georg Pfotzer discovered the maximum using balloons in the 1930s and it is what we are measuring today.

En route to the stratosphere, our sensors also pass through aviation altitudes:

In this plot, dose rates are expessed as multiples of sea level. For instance, we see that boarding a plane that flies at 25,000 feet exposes passengers to dose rates ~10x higher than sea level. At 40,000 feet, the multiplier is closer to 50x.

The radiation sensors onboard our helium balloons detect X-rays and gamma-rays in the energy range 10 keV to 20 MeV. These energies span the range of medical X-ray machines and airport security scanners.

Why are cosmic rays intensifying? The main reason is the sun. Solar storm clouds such as coronal mass ejections (CMEs) sweep aside cosmic rays when they pass by Earth. During Solar Maximum, CMEs are abundant and cosmic rays are held at bay. Now, however, the solar cycle is swinging toward Solar Minimum, allowing cosmic rays to return. Another reason could be the weakening of Earth's magnetic field, which helps protect us from deep-space radiation.

| | |
| --- | --- |
| | The official U.S. government space weather bureau |

| | |
| --- | --- |
| | The first place to look for information about sundogs, pillars, rainbows and related phenomena. |

| | |
| --- | --- |
| | Researchers call it a "Hubble for the sun." SDO is the most advanced solar observatory ever. |

| | |
| --- | --- |
| | 3D views of the sun from NASA's Solar and Terrestrial Relations Observatory |

| | |
| --- | --- |
| | Realtime and archival images of the Sun from SOHO. |

| | |
| --- | --- |
| | from the NOAA Space Environment Center |

| | |
| --- | --- |
| | fun to read, but should be taken with a grain of salt! Forecasts looking ahead more than a few days are often wrong. |

| | |
| --- | --- |
| | from the NOAA Space Environment Center |

| | |
| --- | --- |
| | the underlying science of space weather |

| | |
| --- | --- |
| | If you are a Youtuber and want to buy real Youtube views than try out Buyrealsocial.com for the best results possible! |

| | |
| --- | --- |
| | To find reviews of new online casino sites in the UK try The Casino DB where there are hundreds of online casino reviews complete with bonuses and ratings. |

| | |
| --- | --- |
| | These links help Spaceweather.com stay online. Thank you to our supporters! |

Anthony Mancuso runs the best product review website for online marketing products and software.